BOPP Tape Jumbo Rolls are large-scale adhesive tape rolls made from Biaxially Oriented Polypropylene (BOPP), prized for their strength, clarity, and moisture resistance. Serving as an essential bulk supply in various industries, these jumbo rolls are utilized for high-volume packaging, labeling, and sealing, streamlining processes and enhancing productivity. Their versatility makes them a go-to for sectors ranging from manufacturing to logistics, ensuring a secure seal and reliable performance across diverse packaging needs.
BOPP Tape Features
Material Composition and Qualities
BOPP (Biaxially Oriented Polypropylene) tape derives its exceptional properties from a premium-quality, sturdy plastic material. It boasts remarkable resistance to moisture, chemicals, and UV radiation, ensuring its resilience across diverse environmental conditions. This versatility makes it a fitting choice for a wide array of applications.
Adhesive Properties
BOPP tape is furnished with a robust adhesive backing that delivers secure and enduring adhesion. Engineered to adhere effectively to an array of surfaces, including cardboard, paper, plastic, and metal, this adhesive guarantees packages remain securely sealed throughout transit and storage.
Width and Thickness Varieties
BOPP tape is available in a range of widths and thicknesses, accommodating varied packaging needs. Customers have the flexibility to select from an extensive spectrum of sizes, whether opting for narrower tapes suited to smaller packages or wider ones designed for larger boxes.
Clarity and Color Diversity
Distinguished for its clarity, BOPP tape excels in applications where visual aesthetics are paramount, such as retail packaging. It comes in clear, transparent options as well as an array of colors, permitting branding and customization possibilities.
Advantages of Employing Jumbo Rolls
Cost-Effectiveness
Economical Bulk Procurement:
The foremost advantage of adopting jumbo rolls of BOPP tape lies in cost-effectiveness. Purchasing in larger quantities often translates into substantial per-unit cost savings, rendering it a financially prudent choice for enterprises with substantial packaging requirements.
Diminished Reorder Frequency:
Jumbo rolls encompass more tape, reducing the frequency of reorder placements. This not only slashes shipping expenses but also lessens the administrative workload associated with order management.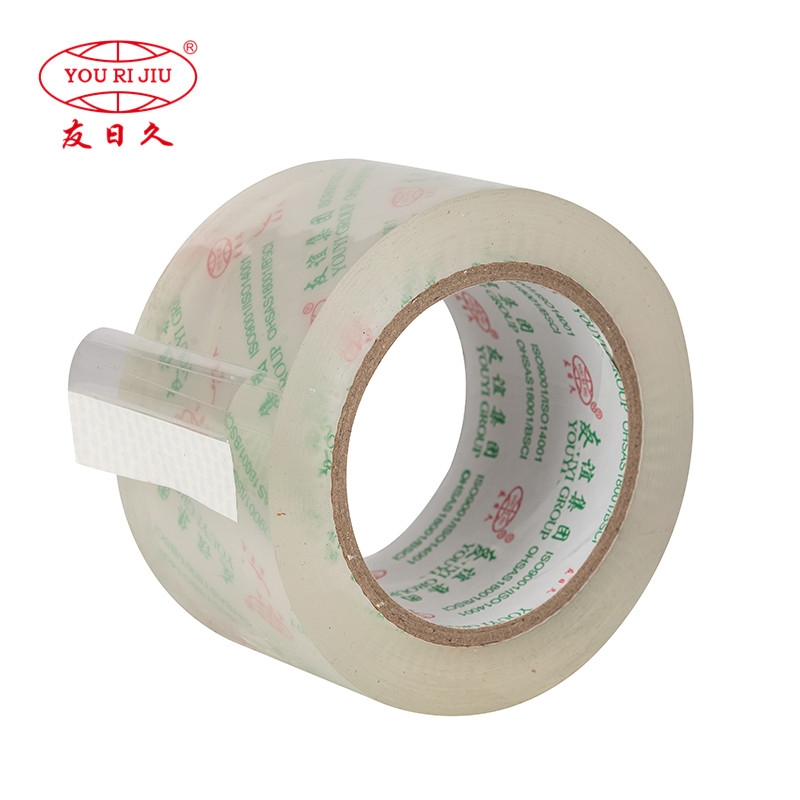 Enhanced Packaging Efficiency
Time Savings with Extended Rolls:
Jumbo rolls usher in heightened efficiency in packaging operations. The elongated rolls translate to fewer instances of roll changes, leading to time savings during the packaging process. This efficiency can boost productivity and reduce labor costs.
Reduced Downtime for Roll Changes:
Jumbo rolls contribute to reduced downtime on packaging lines due to the prolonged tape length. This continuous packaging workflow bolsters consistency and diminishes the risk of production delays.
Favorable Environmental Impact
Minimized Waste Generation with Larger Rolls:
Utilizing jumbo rolls of BOPP tape results in less waste generation. The larger rolls entail fewer cardboard cores and packaging materials to dispose of, aligning with eco-friendly packaging practices.
Potential for Recyclability:
BOPP tape often lends itself to recycling, and employing jumbo rolls can further enhance its environmental benefits. Businesses can explore recycling avenues for the tape, aligning with their sustainability objectives.
Applications in Various Industries
BOPP Tape Jumbo Roll finds extensive utility across diverse industries, owing to its versatile characteristics.
Manufacturing
In the manufacturing sector, BOPP tape is employed for bundling, sealing, and labeling purposes. It aids in securing components during production processes and packaging finished goods.
Distribution and Logistics
In the realm of distribution and logistics, BOPP tape plays a pivotal role in sealing cartons, ensuring product integrity during shipping, and facilitating efficient warehouse operations.
Retail Packaging
Retailers utilize BOPP tape for aesthetically pleasing and secure packaging. Its clarity and customization options make it ideal for showcasing products, enhancing brand visibility, and delivering a pleasing unboxing experience.
Specialty Applications
Specialized variants of BOPP tape serve unique needs. Freezer tape withstands low temperatures, making it suitable for frozen food packaging, while UV-resistant BOPP tape ensures longevity in outdoor applications, such as signage and banners.
How to Choose the Right BOPP Tape Jumbo Roll
Selecting the appropriate BOPP tape jumbo roll involves several crucial considerations to align with specific requirements.
Assessing Size and Width Requirements
Evaluate the dimensions of your packaging needs. Determine the width and length of tape required to effectively seal and secure your packages, ensuring they match the dimensions of the jumbo roll.
Determining the Right Adhesive Strength
Consider the adhesion requirements for your application. Depending on the surfaces and conditions involved, choose an adhesive strength that guarantees secure bonding, whether it's standard, high-tack, or low-residue adhesive.
Considering the Application Environment
Factor in the environmental conditions in which the tape will be used. For environments with extreme temperatures or high humidity levels, opt for specialized tapes that can withstand these conditions to maintain package integrity.
Efficiency and Savings with BOPP Tape Jumbo Rolls: Take Action Today!
The adoption of BOPP Tape Jumbo Roll offers a compelling strategy for maximizing efficiency in packaging operations. By harnessing the advantages of these larger rolls, businesses can achieve cost-effectiveness through bulk purchasing, reduce downtime with fewer roll changes, and minimize waste, all while maintaining a positive environmental impact.
These jumbo rolls, with their exceptional features and versatile applications, prove indispensable across various industries, from manufacturing and distribution to retail packaging and specialized uses. The BOPP tape's material composition, adhesive properties, and customization options make it a reliable choice for secure and visually appealing packaging.
To make the most of this efficient packaging solution, it's essential to carefully consider size, adhesive strength, environmental factors, and the reputation of the brand and manufacturer. In doing so, organizations can optimize their packaging processes, increase productivity, and contribute to sustainability efforts.
In the competitive landscape of today's business world, leveraging the advantages of BOPP tape jumbo rolls becomes not just a practical choice but a strategic one, offering a competitive edge while delivering enhanced efficiency and cost savings.