Masking film, a thin and transparent material, serves as a versatile solution for surface protection. Its applications span a wide spectrum, including painting, sanding, and gluing, making it an indispensable tool in various industries and tasks.
Crepe Paper Pretaped Covering Masking Film comes equipped with different adhesive options, each catering to specific surface types. Some variants boast robust adhesives that firmly adhere to glass or metal surfaces, ensuring secure masking. In contrast, other adhesives are designed to be easily peeled away from wood or plastic surfaces, leaving no residue behind. This adaptability enhances the film's utility across diverse projects.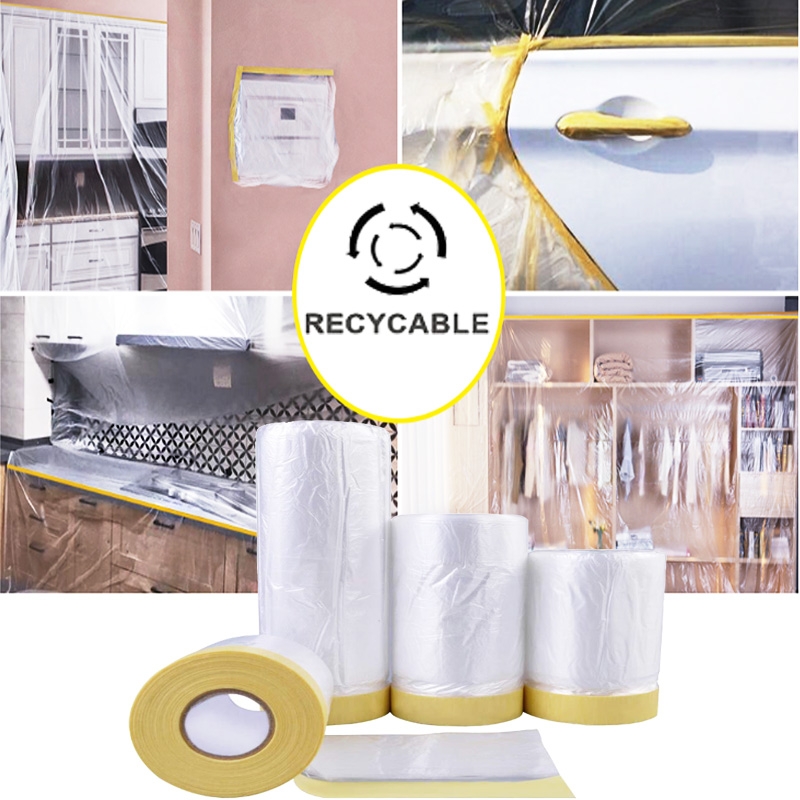 One of the primary roles of masking film is to shield surfaces during painting or varnishing processes. This transparent film is strategically placed around the area requiring protection, ensuring that only the intended areas receive the treatment. Its precise and efficient application guarantees that the surface's integrity remains intact, facilitating quick and accurate protection.
In essence, this Crepe Paper Pretaped Covering Masking Film serves as a key ally, offering quick and precise protection for surfaces across a multitude of applications. Its efficiency in safeguarding surfaces highlights its value in various tasks and industries.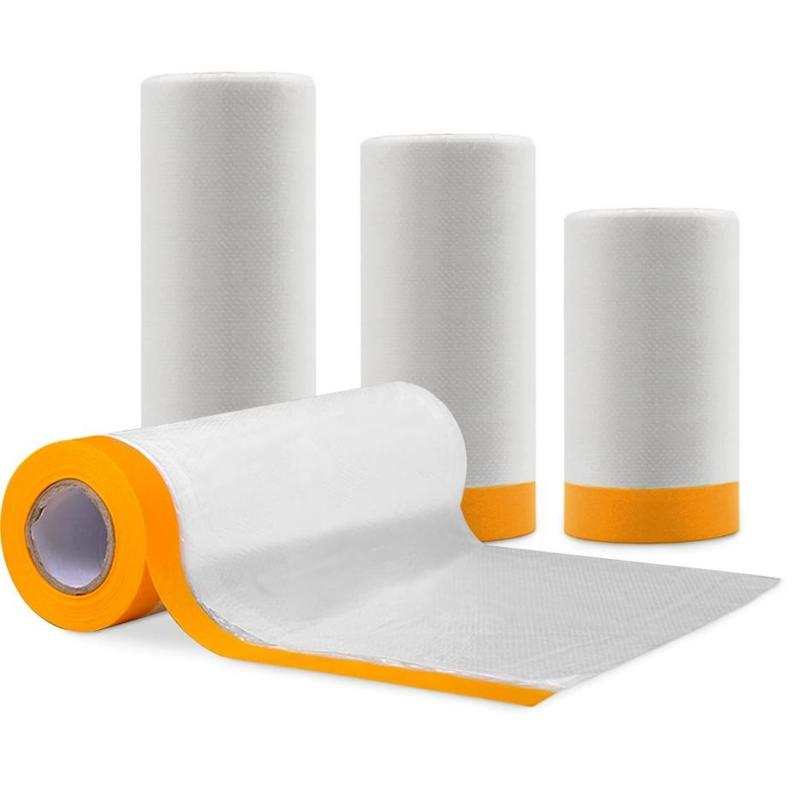 Crepe Paper Pretaped Covering Masking Film: Key Features
– Crepe Paper Material
Crepe paper material, known for its softness and flexibility, is crafted from chemical pulp or wood pulp. This versatile material finds its application in various industries, including printing, packaging, and construction, owing to its light color and robust adhesive properties. It serves as a fundamental component in the production of crepe paper and related products.
– Pretaped Convenience
Crepe paper masking film takes advantage of the crepe paper material and adds a convenient twist. It is pre-taped on both sides by hand, eliminating the need for additional tools during application. This pre-taped feature not only saves valuable time but also reduces labor costs, making it a user-friendly and operationally efficient choice.
– Swift and Precise Protection
As implied by its name, this covering masking film excels in providing swift and precise protection for surfaces during painting processes. The masking tape can be effortlessly applied and removed as required, ensuring ease of use and a high degree of precision. This characteristic makes it an ideal choice for tasks that demand quick and accurate surface protection.
Efficiency Across Diverse Applications
1. Automotive Industry
The automotive sector stands as a prominent consumer of masking films, with an astonishing annual consumption exceeding 10 million tons. Within this industry, masking films play a pivotal role in safeguarding surfaces from contamination during various operations, including painting and welding.
The automotive realm presents unique demands for masking films, setting it apart from other industries. One such requirement is the ability to endure high temperatures. This necessity arises from the fact that many automotive paints necessitate application at elevated temperatures. Moreover, most automotive painting takes place in open environments where conditions can become intensely hot and humid. Hence, these masking films must exhibit resistance to water absorption while providing robust protection against heat and moisture.
2. Home Improvement
Crepe paper finds a valuable application in home improvement projects. It serves as a reliable protector for your flooring during remodeling endeavors, shielding it from the perils of paint, plaster, adhesive, and other construction materials. Additionally, crepe paper serves as a versatile asset, doubling as a drop cloth during painting activities or as a covering for furniture when moving.
3. Industrial and Commercial Painting
The industrial and commercial painting sector thrives as a burgeoning industry, but sourcing suitable materials can often be a challenge. The market offers a plethora of paint types, yet only a few prove truly effective. Enter the paint covering masking film with crepe paper, a versatile solution tailored for industrial and commercial applications. Esteemed by professionals in the field, this product has gained widespread popularity for its efficacy and multitude of advantages, outshining other materials in various contexts.
Contrasting with Conventional Masking Techniques
Comparison with Standard Masking Tape and Plastic Sheeting
Crepe paper pretaped covering masking film represents a novel masking material created through a specialized treatment process involving crepe paper subjected to thermal and mechanical treatments. It offers distinct advantages, including excellent water resistance and flexibility. This innovative masking film finds utility in numerous scenarios where other materials falter, such as environments characterized by high temperatures, humidity, corrosive gases, or oil mist.
Cost-Effectiveness
As society's emphasis on environmental protection continues to grow, the use of crepe paper covering masking film emerges as a prevailing trend in the packaging industry. Its appeal lies in its recyclable and reusable nature, embodying both environmental friendliness and cost-effectiveness.
Traditional masking methods rely on the manual application of copious amounts of tape by multiple workers, a process that not only consumes human resources but also extends production time and expenses. In contrast, crepe paper covering masking film simplifies this task. A single worker can swiftly and precisely apply numerous tapes to an item, streamlining the process, reducing labor costs, and significantly enhancing production efficiency.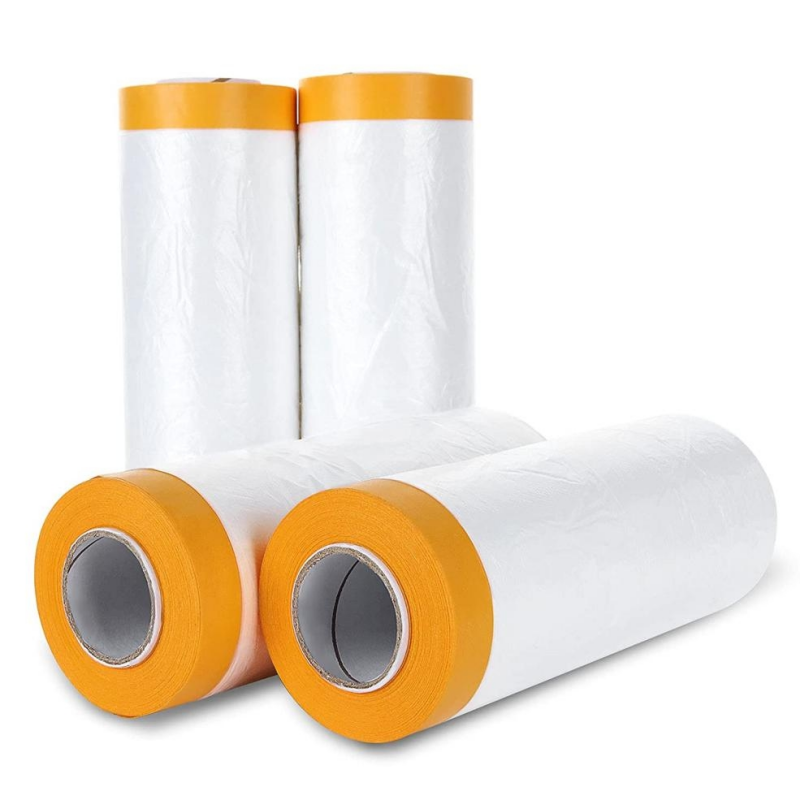 Application Tips and Techniques for Crepe Paper Pretaped Covering Masking Film
Introduction to Using the Product:
When working with the Crepe Paper Pretaped Covering Masking Film, following these step-by-step instructions will help you achieve effective and precise masking for your projects:
Step 1: Precise Cutting
Begin by using scissors to cut the masking film to the size required for your specific project. Ensure the film covers the area you want to protect adequately.
Step 2: Easy Application
Peel off the protective layer from the film, revealing the adhesive side.
Carefully apply the adhesive side of the masking film to the surface of your project. Press it down firmly to ensure proper adhesion.
Step 3: Painting and Removal
Now, you can proceed with your painting or other project tasks. Apply your desired colors or finishes over the protected area.
Importantly, after finishing your painting, remove the masking film immediately. This ensures clean lines and prevents any unwanted adhesion due to drying paint.
Highlighting Versatility
The Crepe Paper Pretaped Covering Masking Film is exceptionally versatile and suitable for a wide range of projects, including but not limited to:
1) Automotive Painting: Ideal for masking off sections of vehicles when painting or detailing.
Wood Staining and Refinishing: Provides precise protection for wood surfaces during staining or refinishing.
2) Wall Covering: Perfect for protecting adjacent surfaces when painting walls or applying wallpaper.
3) Floor Covering: Protects floors during renovation or painting projects, preventing accidental spills or splatters.
Decorative Painting: Enables intricate masking for decorative painting and detailing.
Furthermore, this masking film can be effectively used for both interior and exterior applications, making it a versatile choice for a variety of projects in different environments. Its ease of use and precise protection capabilities make it a valuable tool for professionals and DIY enthusiasts alike.
Safeguarding Your Investment: Maintenance and Storage Guidelines
Ensuring the longevity of your Crepe Paper Pretaped Covering Masking Film hinges on proper storage practices:
1) Optimal Storage Conditions: Store your masking film in a cool and dry location, shielded from direct sunlight and extreme temperatures. This protective measure goes a long way in preserving the product's integrity.
2) Extended Storage Precautions: If you anticipate not using the masking film for an extended period, it's advisable to maintain it in its original packaging. Alternatively, transfer it to a suitable container or box to shield it from potential damage during its hiatus.
Sustaining Adhesive Quality: Top Tips
To maintain the adhesive's efficacy and extend the tape's lifespan, adhere to these pointers:
1) Shield from Prolonged Sun Exposure: Avoid subjecting the tape to prolonged periods of direct sunlight. Excessive heat can expedite adhesive deterioration, causing it to lose its adhesive strength and necessitating premature replacement.
2) Guard Against Moisture: Keep the tape away from moisture, as wet conditions can hinder its adhesive properties, potentially leading to inadequate adhesion and even peeling.
3) A Cool, Dry Haven: Whenever the tape is not in use, store it in a cool, dry environment. The longer it remains outside of its packaging, the greater the risk of moisture infiltration, which could compromise its performance when you return to use it later on.
Reusability and Cost-Efficiency
The Crepe Paper Pretaped Covering Masking Film boasts attributes like exceptional adhesion, elongation, impressive tensile strength, and tear resistance. These qualities empower it for long-term use, resistant to aging, temperature fluctuations, and acid-base exposures.
Moreover, the tape's user-friendly design ensures ease of removal without leaving behind any adhesive residue. This feature, combined with its durability, translates into cost savings and reduced environmental impact, promoting both economic and eco-friendly practices.
CONCLUSION
The Crepe Paper Pretaped Covering Masking Films are an affordable and efficient solution for protecting all sorts of surfaces – both large and small. They are versatile waxed adhesive polymer films that can be used in a variety of construction applications, from painting and wallpapering to tiling and flooring. Due to their tear resistance they are particularly suited to tough jobs. They can even withstand sharp edge tools, making them a good choice for protection during installation or repair work.