Double-sided tape Jumbo Roll is a versatile adhesive solution with two sticky sides, designed to bond two surfaces together invisibly. The Jumbo Roll, with its generous length, offers unparalleled convenience for large-scale or frequent usage. The quality of the adhesive is crucial as it dictates the tape's reliability, strength, and suitability for various tasks, ensuring that projects stay intact without the need for visible fasteners, resulting in cleaner, more professional finishes across multiple applications.
Product Overview
Description of the Double-Sided Tape Jumbo Roll
The Double-Sided Tape Jumbo Roll stands as a formidable player in the adhesive domain, offering an extensive length of tape designed for heavy-duty sticking power. This industrial-scale roll serves an essential need for continuous and consistent applications, where stopping to replace rolls is not an option.
Key Features
Extended Length: The Jumbo Roll's substantial size reduces the frequency of replacements, ideal for large projects or high-volume users.
lSuperior Adhesion: Engineered with a premium adhesive, the tape promises a firm grip between surfaces without the risk of failure.
lDiverse Material Compatibility: It adheres to a wide array of materials, including metal, plastic, fabric, and wood, emphasizing its versatility.
lResidue-Free Removal: It is designed to peel away cleanly without leaving behind any sticky residue, maintaining the integrity of the bonded surfaces.
lWeather and Temperature Resistant: The tape is crafted to withstand harsh environmental conditions, making it suitable for both indoor and outdoor use.
Range of Applications
The Jumbo Roll's robust design is not limited to a single industry but spans various sectors including:
lConstruction and Renovation: For securing flooring, temporary mounting, and insulation.
lArts and Crafts: Ideal for complex projects that require a reliable bond.
lSignage and Exhibits: Trusted by professionals for mounting displays and signage securely.
lPackaging and Shipping: Strong enough to hold together packaging and bundling materials.
lAutomotive and Electronics: For assembling components that demand a durable and resilient adhesive solution.
Unmatched Adhesive Performance of Double-Sided Tape Jumbo Roll
The Double-sided tape Jumbo Roll sets a benchmark in adhesive performance thanks to its state-of-the-art technology and exceptional attributes.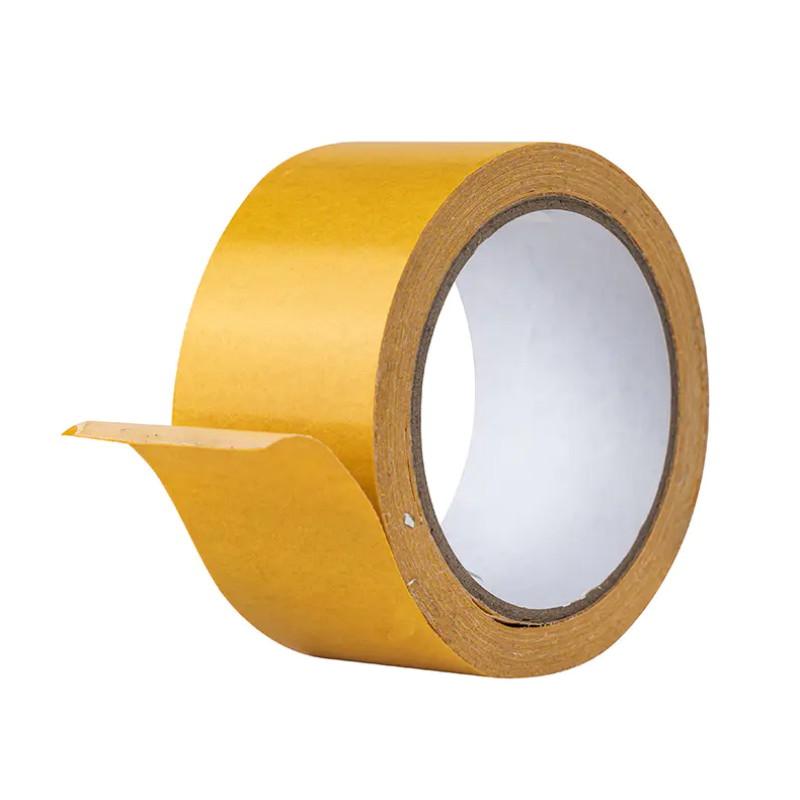 Innovative Adhesive Technology:
lComposition and Material Science: Our tape is meticulously crafted using cutting-edge materials and a specialized composition that guarantees superior bonding capabilities. This results in a dependable and enduring adhesive.
lAdhesion Strength: The tape boasts an impressive level of adhesion strength, firmly adhering to a diverse array of surfaces. It delivers a secure grip that outperforms traditional tape products, making it the preferred choice for a wide spectrum of applications.
lResilience Across Varied Conditions: Our tape excels in durability, retaining its adhesive qualities even under the harshest conditions. It stands up to fluctuations in temperature, exposure to moisture, and UV radiation, rendering it suitable for both indoor and outdoor usage.
Comparative Evaluation
Versus Conventional Tape Products: In comparison to standard tapes, our Double-Sided Tape Jumbo Roll surpasses them in terms of adhesion strength and longevity. It is a dependable option for projects demanding a robust and enduring bond.
Performance in Challenging Environments: This tape demonstrates exceptional performance in challenging environments, including those with high humidity, extreme temperatures, and exposure to harsh chemicals. It maintains steadfast adherence, ensuring optimal functionality regardless of the prevailing conditions.
Ease of Use and Convenience
Simple Application Process
Our product is thoughtfully engineered for effortless application. Whether you're a seasoned professional or a DIY enthusiast, you'll appreciate how easily it adheres to surfaces. With no need for complex instructions or specialized tools, it's accessible to everyone, ensuring a hassle-free experience.
Time-Efficiency
Our tape not only simplifies application but also optimizes your time. Its rapid and effective bonding properties allow for swift completion of tasks without the wait for drying or curing times. This time-saving feature is particularly advantageous for projects that prioritize efficiency and productivity.
Reusable with Residue-Free Removal
We recognize the importance of versatility. Our tape is not only user-friendly and time-saving but also reusable. Should the need arise to reposition or reuse it, you can do so with confidence. Moreover, when it's time to remove the tape, it leaves no residue or surface damage. This residue-free removal ensures a clean finish, eliminating the necessity for additional cleanup, and makes it a convenient choice for both temporary and permanent applications.
Versatility Across Industries
Crafting and DIY Projects
Our product seamlessly integrates into the realm of crafting and DIY projects. Its user-friendly design and dependable adhesion qualities make it the perfect choice for bonding various materials. Whether you're engaged in scrapbooking, home decor projects, or minor repairs, our tape simplifies your creative pursuits.
Commercial Signage and Installations
In the domain of commercial signage and installations, the robust adhesion strength and durability of our tape come to the forefront. It ensures secure and long-lasting attachment of signage and displays, even in high-traffic areas. Its ability to withstand diverse weather conditions makes it a trusted option for both indoor and outdoor applications.
Automotive and Aerospace Applications
The automotive and aerospace industries leverage our tape's exceptional performance in extreme conditions. Its resilience to high temperatures, exposure to chemicals, and resistance to vibrations make it a valuable asset. It finds application in tasks ranging from interior trim installations to bonding aerospace components.
Electronics and Precision Engineering
Within the electronics and precision engineering sectors, the precision and reliability of our tape take center stage. Its capacity to establish secure bonds without harming delicate components makes it an indispensable tool for circuit assembly, PCB manufacturing, and a multitude of precision engineering tasks.
CONCLUSION
The Double-sided tape Jumbo Roll exemplifies unrivaled adhesive performance, underpinned by cutting-edge technology and validated across a multitude of applications. Its user-friendly application, time-efficient attributes, reusability, and residue-free removal render it a convenient selection. Its adaptability spans crafting, commercial installations, automotive, aerospace, and precision engineering, providing dependable solutions across a wide array of industries.