A Green PET Protection Tape which is used to insulate electrical wires and cables against the formation of hazardous sparks. It is made from the best quality raw material and it protects electrical wires and cables from short circuit, over heating and other damage caused by moisture. It has excellent tensile strength, tear resistance and flexibility. The offered tape is highly appreciated in the market for its features like thin, light weight, high strength & flexibility etc.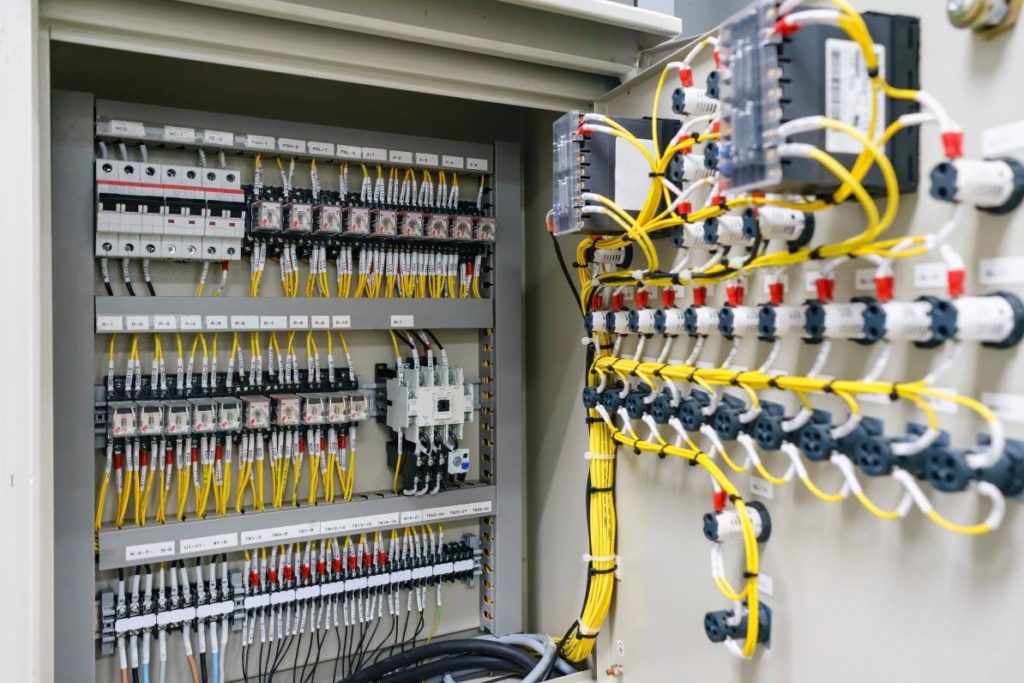 Electrical insulation tape is used to protect electrical connections with precision. It is useful in a number of applications such as wind energy, solar energy and other industrial electrical applications.
Electrical insulation tape protects the connection between wires and terminals by preventing arcing or short-circuiting. Tape also provides insulation to prevent shorts in a circuit.
Electrical Insulation: Ensuring Safety and Functionality
– Importance of Electrical Insulation
Electrical insulation is a fundamental property exhibited by certain materials, enabling them to impede the flow of electric current. These materials, commonly referred to as insulators or dielectrics, are instrumental in both our daily lives and scientific endeavors, facilitating the secure use of electrical devices, safeguarding inanimate objects from harm, and contributing to the exploration of electricity in scientific research.
The control of electron flow holds immense significance, extending its influence into diverse fields like electronics, quantum physics, and chemistry. Insulation stands as a cornerstone for the safety and proper operation of all electrical appliances and devices, encompassing wires, cables, and circuits. Moreover, it aids in averting electromagnetic interference (EMI), a phenomenon triggered by electrons bridging the gap between atoms or molecules when an electric field is applied across an insulator.
– Risks of Inadequate Protection
Inadequate electrical insulation can expose systems and environments to a range of potential risks, including:
Short-Circuit Failures: These occur when an object makes contact with two conductors simultaneously, leading to an abrupt surge of current through the object. Such events can result in overheating and, in extreme cases, ignite fires. Inadequate grounding practices can be a contributing factor to short-circuit failures.
Overload Failures: Overload failures manifest when an excessive current flows through a wire, causing it to overheat and potentially ignite. This scenario is more likely when multiple appliances are connected to a single circuit with insufficient wire gauge sizes.
Temperature Rise: Temperature rise is typically triggered by heat generated due to power losses within appliances like motors or switches. While the temperature increase is usually not significant enough to cause immediate damage, it can lead to overheating issues, especially under extreme conditions.
In summary, electrical insulation is paramount for ensuring the safe and effective operation of electrical systems, protecting against a spectrum of potential risks, and facilitating advancements in science and technology.
Green PET Protection Tape: A Heat-Resistant Solution
Green PET Protection Tape stands out as a heat-resistant and flame-retardant adhesive tape. With an impressive thermal resistance of up to 180 degrees Celsius, it emerges as a premier choice for safeguarding electrical circuits against the perils of overheating.
This versatile tape finds utility across various industries, with a prominent presence in electronics and motor-related applications. Its primary function involves shielding electric circuits from potential electric arcs and thwarting short-circuit leakage. Additionally, it enhances the safety of personnel working with high voltages, fostering secure operational environments.
Green PET Protection Tape is user-friendly, ensuring convenient application and removal. When the time comes to remove it, there's no need to fret about residue marring the surface of the protected material. This attribute adds to its appeal, further simplifying its use in diverse settings.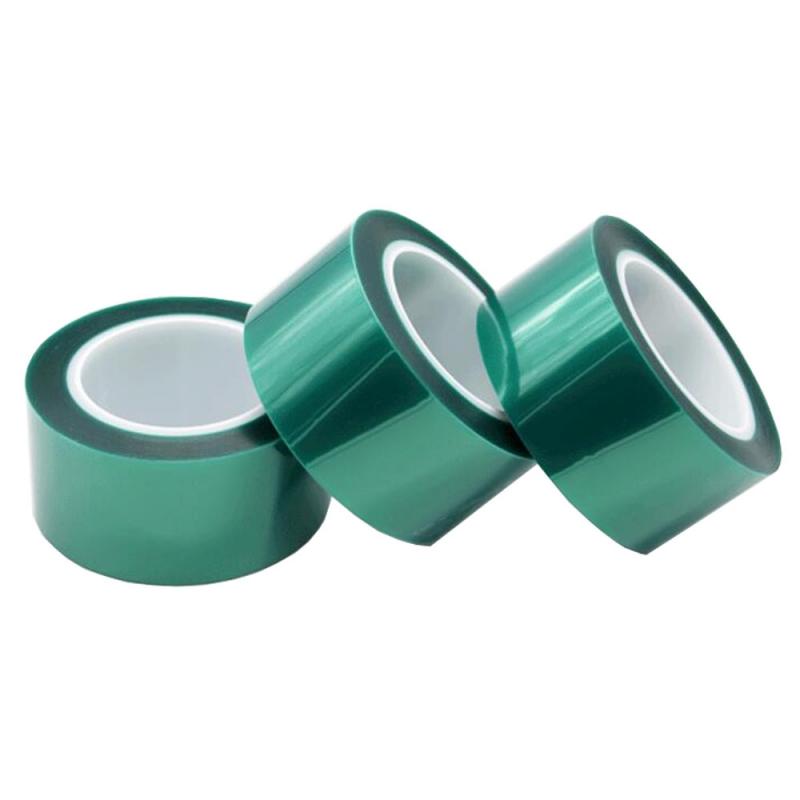 Precision Protection
How Green PET Protection Tape ensures precision
The tape is made from PET film, which has a high tensile strength and offers excellent heat resistance. This allows the tape to be applied at extreme temperatures, making it ideal for use on hot surfaces or in areas with high levels of heat.
The tape has an open weave structure that allows it to breathe, preventing the build-up of condensation and releasing any trapped moisture. The material is also resistant to UV light, so it won't yellow over time.
Application Process for Accurate Coverage
The application process for accurate coverage is the same for all our PET Protection Tapes.
If you are using a printed sheet then you just need to cut out your desired shape, apply to your surface and trim off any excess. If you are using a roll then simply unroll your tape, cut to size and apply.
To ensure accurate coverage, please follow our tips below:
– If applying a printed sheet, make sure that the print does not overlap onto any other printed areas or onto itself. This will cause the colours to bleed together and spoil the appearance of your design.
– If using a roll of tape, start at one end of the area that you want to protect and work your way towards the other end. This will ensure that there are no gaps between pieces of tape and they are properly stuck down to your surface without creating any bubbles or creases in between layers of protection.
Ability to Shield Against Moisture, Dust, and Contaminants
Green PET Protection Tape is a cost effective solution to protect your products during shipment and storage. It prevents damage from moisture, dust and contaminants. The tape can be used on many different surfaces including wood, metal, glass and plastic.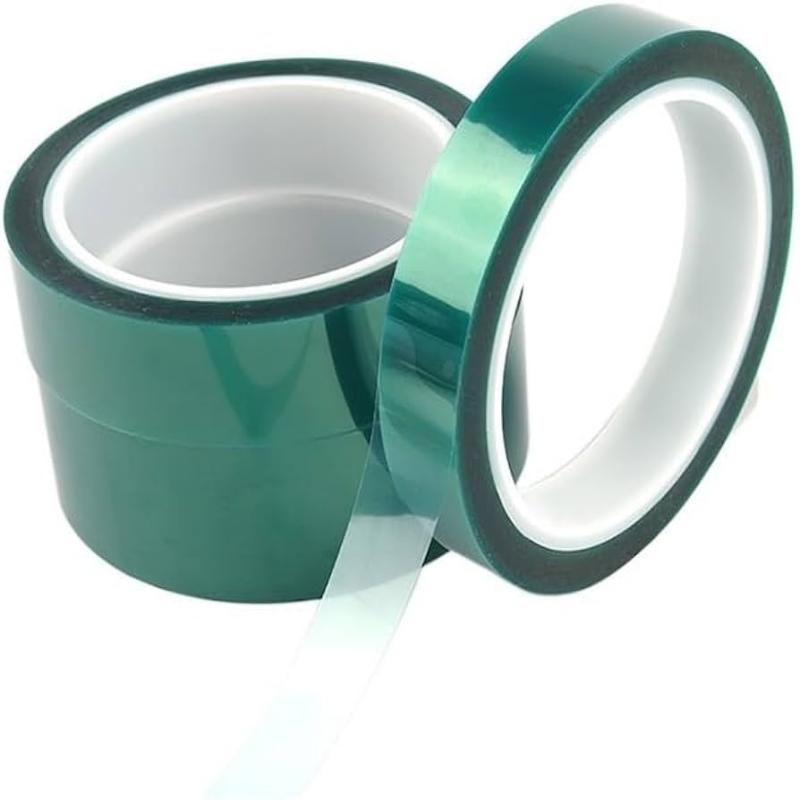 Benefits
– Key Benefits
Green PET Protection Tape is the perfect choice for a wide variety of applications. It has excellent adhesion properties and superior conformability, making it ideally suited for precision protection. The material is thin enough for easy application without compromising durability or strength but thick enough to resist tears and punctures. In addition, it's resistant to most solvents and chemicals — even those that are aggressive or corrosive — so it can be used in environments where these substances are present.
– Durability, Heat Resistance, and Ease of use
Another important consideration is heat resistance. If you're shipping something that will be exposed to high temperatures, you'll need a tape that won't melt or become brittle from excessive heat exposure.
The third factor is ease of use. You want to make sure that the PET tape you choose isn't too difficult to cut, remove, or apply so that it doesn't create extra work for yourself or your employees as they package products for delivery
– Contribution to Electrical System Longevity
As part of our comprehensive approach to protecting your assets, we can also offer you protection tape for your electrical components. This tape will help prevent any electrical shorts and ensure that the system remains in good condition throughout the life of your car. We use only high-quality materials when manufacturing this tape, so you can rest assured that it will last as long as possible.
CONCLUSION
Electrical insulation tape serves as a crucial protector for wire connections, maintaining a safe separation between them. This barrier is instrumental in preventing arcing, a potential source of fires and electrical system complications. Moreover, the insulation tape acts as a shield against moisture infiltration, thwarting corrosion that could compromise the integrity of your electrical system in the future.
If you're keen on delving deeper into our products and services, we invite you to reach out to us today. We're here to address your inquiries and provide valuable insights.