Printing rice paper tape involves the creative process of applying custom designs, patterns, or artwork onto rice paper tape, a delicately robust adhesive tape crafted from rice paper. This artistic endeavor serves the dual purpose of personalization and aesthetic enhancement, opening doors to a multitude of artistic and practical applications.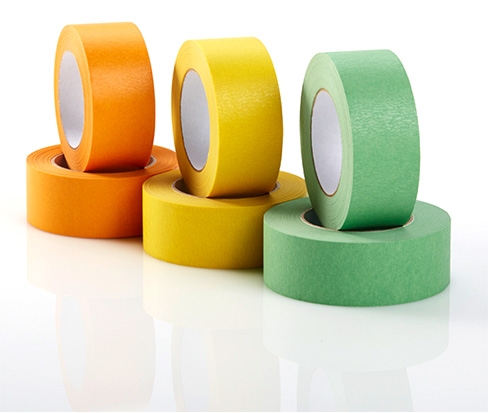 Rice paper tape is celebrated for its exceptional blend of fragility and resilience, rendering it an ideal canvas for artistic expression. Its inherent translucency imparts an ethereal quality to designs, while its adhesive characteristics grant it adaptability for a diverse array of projects. This introduction delves into the artistic and utilitarian significance that printing on rice paper tape brings to the realm of creative ventures.
Creative Possibilities
Custom Designs and Patterns
Printing on rice paper tape opens a world of creative opportunities for crafting custom designs and patterns. Artists and craft enthusiasts can explore their imaginations and bring unique visual elements to life on the delicate canvas of rice paper tape. From intricate illustrations to bold graphics, the possibilities for customization are endless.
Personalized Packaging and Gifts
Rice paper tape, adorned with personalized prints, adds a thoughtful and artistic touch to packaging and gifts. Whether it's wrapping presents, decorating gift boxes, or adding a unique seal to envelopes, printed rice paper tape can elevate the presentation and make every gift-giving occasion truly special.
Artistic Collaborations and Projects
Artistic collaborations and projects benefit from the versatility of printed rice paper tape. Artists from various disciplines can join forces to incorporate this tape into mixed media artworks, installations, or collaborative projects. Its translucent quality and adhesive properties can be integrated seamlessly into diverse creative endeavors, resulting in innovative and visually stunning outcomes.
Techniques for Printing on Rice Paper Tape
Printing Methods and Equipment
The process of printing on rice paper tape demands careful consideration of the appropriate printing methods and equipment. Artists and craftspeople have the freedom to explore a spectrum of techniques, including screen printing, inkjet printing, block printing, or even the tactile charm of hand-painting, contingent on their preferences and project intricacies. The choice of equipment and method profoundly influences the precision and artistic expression achievable.
Choosing the Right Ink or Paint
Selecting the correct ink or paint is a pivotal determinant of the quality of prints on rice paper tape. Different inks and paints offer varying degrees of opacity, durability, and color vibrancy. Artists must take into account factors such as the tape's intended use and the desired visual impact when making the selection. This decision significantly shapes the final appearance of the printed design.
Tips for Achieving Crisp and Vibrant Prints
Attaining crisp and vibrant prints on rice paper tape requires meticulous attention to detail and skillful execution. Artists can employ a range of tips and techniques, including adjustments to printing settings, utilization of high-resolution images, ensuring optimal ink saturation, and allowing sufficient drying time between layers. These strategies collectively contribute to the clarity and vividness of the printed designs, culminating in visually captivating outcomes.
Artistic Applications
Visual Arts and Mixed Media
Rice paper tape's role in the realm of visual arts and mixed media is both inspiring and versatile. Artists can integrate printed rice paper tape into their creations, whether it's collage, painting, sculpture, or multimedia installations. The tape's translucency, texture, and adhesive qualities open doors to innovative artistic expressions, enriching the visual landscape of these mediums.
Crafting and DIY Projects
Crafters and DIY enthusiasts can harness the creative potential of printed rice paper tape in a multitude of projects. From scrapbooking and card-making to home decor and journaling, the tape's personalized prints add charm and character to craft endeavors. Its ease of use and adaptability make it a valuable asset in the crafting toolkit.
Decorative and Functional Uses
Printed rice paper tape finds application in both decorative and functional capacities. It can embellish furniture, lampshades, and walls with unique designs. Additionally, it serves practical functions such as labeling, organizing, and sealing. Whether enhancing aesthetics or improving organization, printed rice paper tape is a versatile solution for an array of creative and functional purposes.
Inspirational Examples
Here are some inspirational examples for both showcases of printing rice paper tape creations and success stories/innovative ideas related to this unique medium:
Showcase of Printed Rice Paper Tape Creations
1) Artistic Masterpieces: Talented artists use rice paper tape as a canvas for their creativity, producing intricate and visually stunning artworks. These can range from traditional Chinese brush paintings to modern abstract designs.
2) Custom Wedding Invitations: Creative couples and stationery designers use rice paper tape to craft unique and personalized wedding invitations. The delicate and translucent quality of rice paper adds an elegant touch to these special occasions.
3) Japanese Washi Tape Art: Washi tape, a type of rice paper tape from Japan, is a popular medium for creating beautiful and intricate decorations on journals, scrapbooks, and even furniture. The possibilities are endless, from floral designs to geometric patterns.
4) Home Decor: Crafters and DIY enthusiasts use printed rice paper tape to transform everyday items into works of art. This includes decorating vases, lampshades, and furniture to give them a fresh and stylish look.
5) Fashion and Accessories: Some innovative designers incorporate rice paper tape into clothing and accessories, creating unique and eco-friendly fashion items. This includes clothing adorned with rice paper tape patterns and jewelry made from rice paper tape beads.
Success Stories and Innovative Ideas
1) Eco-Friendly Packaging: Businesses are increasingly using rice paper tape for packaging, replacing traditional plastic tape. This not only reduces their environmental footprint but also adds a unique and aesthetic touch to their branding.
2) Art Therapy: Rice paper tape has been used as a therapeutic medium for individuals dealing with stress, anxiety, or trauma. Art therapists have reported success in helping clients express their emotions and thoughts through tape art.
3) Educational Workshops: Schools and community centers organize workshops to teach people how to create art using rice paper tape. These workshops promote creativity and provide a platform for people to showcase their talents.
4) Collaborations with Artists: Brands collaborate with artists and designers to create limited-edition rice paper tape collections. This not only supports artists but also brings unique, collectible products to the market.
5) Global Art Exchanges: Online communities and social media platforms have enabled artists and tape enthusiasts from around the world to connect and exchange ideas. This global exchange of creativity has led to the emergence of new techniques and styles in rice paper tape art.
These examples demonstrate the versatility and potential of printed rice paper tape as a medium for artistic expression, personalization, and eco-friendly innovation. Whether you're an artist looking for a new canvas or a business seeking sustainable packaging solutions, rice paper tape offers a wide range of possibilities.
CONCLUSION
In conclusion, the world of printing rice paper tape opens up a realm of creative possibilities that can truly elevate your artistic and craft projects. Whether you're looking to create custom designs, add a personal touch to gifts, or collaborate on unique artistic ventures, rice paper tape offers a versatile canvas for your imagination. So, seize the opportunity to bring your artistic visions to life with printed rice paper tape, and let your imagination soar in the world of creative possibilities.