Founded in March 1986, Fujian Youyi Adhesive Tape Group is a modern enterprise with diverse industries, including packaging materials, film, paper making, and chemicals. With 20 production bases and a total area of 2.8 square kilometers, Youyi Group employs over 8000 skilled professionals.
Equipped with more than 200 advanced coating production lines, Youyi Group aims to become the largest producer in the industry in China. Our extensive sales network covers the entire nation, and our own brand YOURIJIU has successfully penetrated international markets. Our product series have gained popularity and established a strong reputation in Southeast Asia, the Middle East, Europe, America, and over 80 countries and regions.
With numerous accolades such as "China Well-known Trademarks", "Fujian Famous Brand Products", "High-tech Enterprises", "Fujian Science and Technology Enterprises", "Fujian Packaging Leading Enterprises", and "China Adhesive Tape Industry Model Enterprises", Youyi Group has consistently demonstrated excellence. We have obtained ISO 9001, ISO 14001, BSCI, SGS, FSC certifications, and some products comply with RoHS 2.0 and REACH standards.
If you are in search of a reliable adhesive tape supplier, Youyi Group is the right choice for you.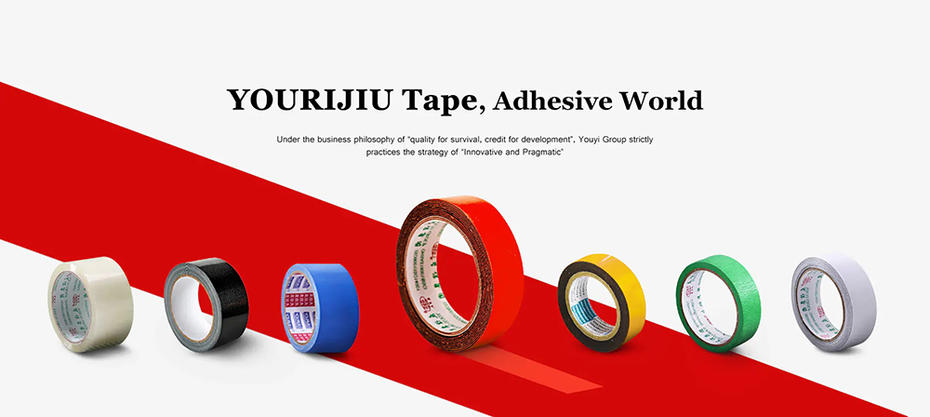 As our population continues to grow, so does the demand for packaging supplies. In light of this, it is crucial that we not only conserve resources but also consider the environmental impact of our choices. One often overlooked aspect of renewable packaging is packing tape. With a wide array of options available, it is important to determine which eco-friendly tape is best suited for your industry.
Most packing tapes on the market are made from plastic, which is derived from petroleum. While plastic tape is inexpensive and offers good sealing performance, it is important to note that it is a non-renewable resource and not ideal for environmentally conscious markets.
In most cases, it is advisable to opt for tapes made from paper or cellulose, as both materials are derived from trees and therefore renewable resources. These tapes can be easily recycled alongside the cardboard boxes they accompany, saving time for those who regularly recycle cardboard boxes.
Additionally, there are biodegradable tapes and environmentally friendly safety tapes available in the market. By examining specific types of packing tape in more detail, we can find the best eco-friendly tape for your specific needs.
【Water Activated Non-reinforced Kraft Paper Tape】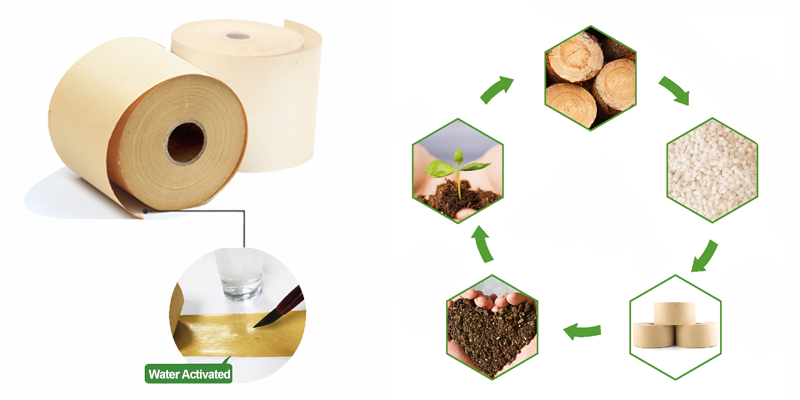 While it may not the strongest adhesive, water-activated tape presents itself as a highly eco-friendly alternative. Consisting of a kraft paper carrier coated with starch adhesive, this tape is structurally designed to biodegrade rapidly and be completely recyclable. In fact, once it reaches the landfill, it will decompose within a remarkably short period of 2-6 weeks.
It is worth noting, however, that using water-activated tape may come with certain inconveniences. Due to its activation process, which requires even moisture application using a special dispenser, this tape may be less convenient to use compared to other options. Additionally, its higher cost makes it more suitable for markets that prioritize stringent environmental protection in packaging practices.
【Water Activated Reinforced Kraft Paper Tape】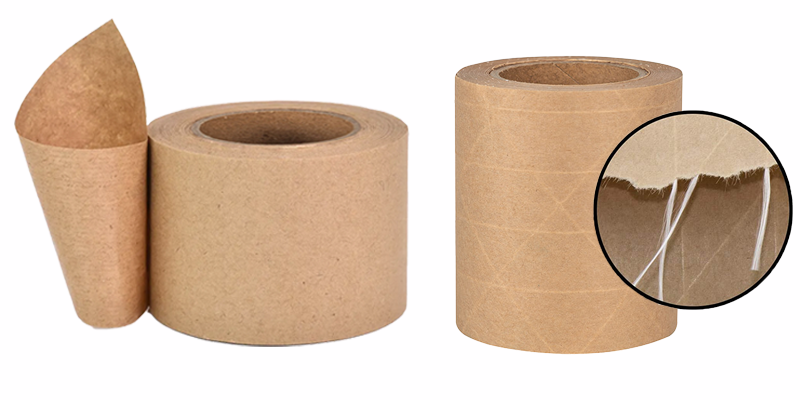 Also, you definitely want to know about reinforced versions of these tapes. By incorporating glass fibers into the kraft paper, the strength and durability of the adhesive tape can be significantly enhanced. While fiberglass requires filtration when recycled, making it not the most environmentally-friendly option, it remains a good choice for those seeking a tape with improved performance.
【Kraft Tape】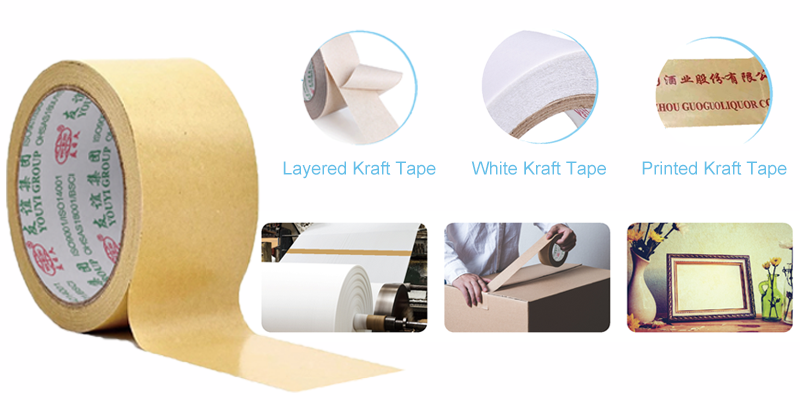 If your market doesn't require high environmental protection standards, ordinary kraft paper tape can be a suitable choice. This type of tape uses kraft release paper as a carrier and is coated with a pressure-sensitive adhesive. It offers strong adhesion, high tensile strength, weather resistance, and is easy to tear. Moreover, it is environmentally friendly and can be recycled.
Kraft paper tape is versatile and suitable for various applications such as joining paper, sealing boxes, bundling articles, and even masking and correcting mistakes on carton marks.
Additionally, there are three other variations of kraft paper tape available: Layered Kraft Tape, White Kraft Tape, and Printed Kraft Tape.
Although the options for biodegradable tapes are currently limited and may not be suitable for certain situations, it is still important to choose high-performance tapes that are environmentally friendly, harmless, and safe.
【PVC Food Can Sealing Tape】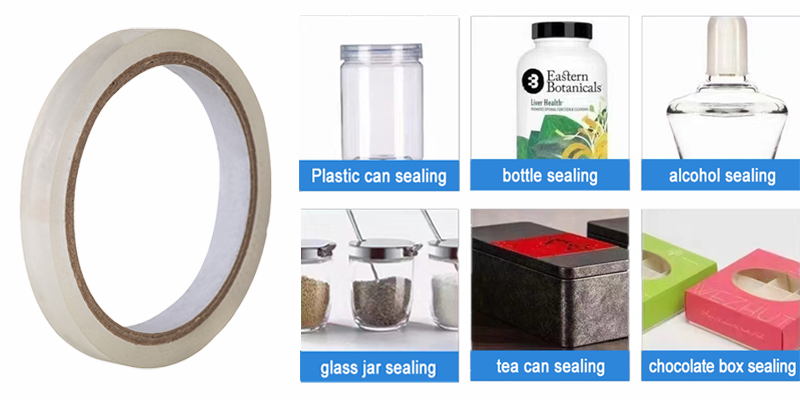 PVC Food Can Sealing Tape made with natural rubber glue, offers optimal performance and safety. It is low lead-cadmium and environmentally friendly, providing excellent flexibility and moderate adhesion. Additionally, it is easy to peel off without leaving behind residue.
This versatile product adheres well to uneven surfaces, effectively sealing and protecting against moisture without compromising the appearance of the item. It is ideal for safeguarding stainless steel plates, iron boxes, plastics, and more, as well as ensuring food containers and cosmetic bottles are sealed and moisture-proofed.
As the direct manufacturer of this PVC Food Can Sealing Tape, we are proud to mention that it has been ROHS2.0 certified, reinforcing its quality and reliability.
【Super Cut Curing Tape】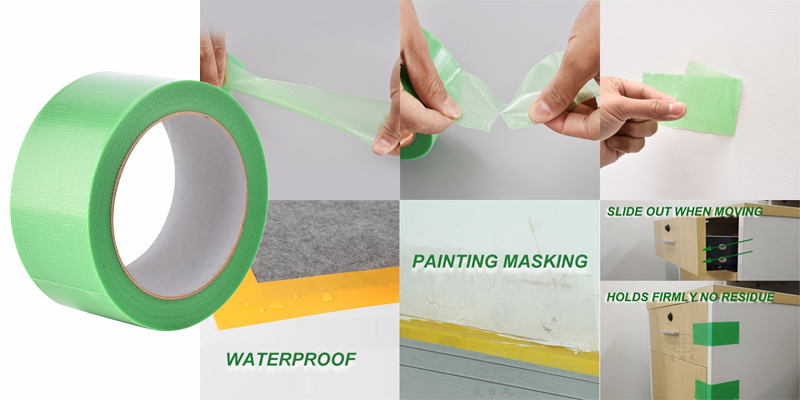 Super Cut Curing Tape is made of PE or PET film and environmentally friendly water-based glue, does not contain harmful substances such as formaldehyde and toluene.
This combination produces a tape that has great tensile strength and is easy to tear by hand. It also has excellent overall weather resistance, water resistance, and good re-peel ability despite strong adhesion.
It is safe, non-toxic, and odorless, so it is often seen in daily life. Can be used for marking, carton sealing, temporary repair, and decoration.
For construction or painting curing, for temporary fixing of various curing materials. A thin type, has excellent weather resistance, is resistant to water, and is suitable for general curing. Ideal for attaching to floor covering sheets and fixing plastic cardboard in elevators when moving.
If the environmental tape cannot meet the needs of your industry, you can only choose plastic tape. In order to save resources, you can choose a thinner packing tape. Although the width is only reduced by 5 mm, it can reduce a lot of usable area in one year.
In addition, you also need to pay attention when choosing a supplier of tapes.Choose companies with relevant certifications and products that have passed various environmental certifications. Before purchasing, it is required to check the relevant certificates of the enterprise.