Fujian Youyi Group, founded in March 1986, is a highly integrated high-tech adhesive materials enterprise specializing in Research and Development, production, sales, and service.
Currently, the group operates 20 production bases encompassing a total area of 3600 mu (593 acres) and employs over 8,000 individuals. With over 200 advanced domestic series of tape coating production lines, our production scale ranks among the leading counterparts in China.
We have established marketing outlets across major provinces and cities, ensuring full coverage of our sales network. Our product series have gained strong traction in more than 80 countries and regions, including Southeast Asia, the Middle East, Europe, and the United States.
Throughout the years, the group has been honored with notable titles such as "China Famous Trademark," "Fujian Famous Brand Product," "High-tech Enterprise," "Top 100 Fujian Manufacturing Enterprise," "Fujian Science and Technology Enterprise," and "Fujian Packaging Leading Enterprise." Additionally, we hold certifications for ISO 9001, ISO 14001, SGS, and BSCI, solidifying our commitment to quality and standards.
In the electronics manufacturing industry, several types of tapes are commonly used. These tapes come in different specifications and properties to cater to the specific needs of electronic products. Some commonly used tapes include Kapton tape, Green PET Protection Tape, PET Waste Discharge Tape, and Double Side PET Film Tape.
1. Kapton tape, also known as Polyimide Tape or PI tape, is a high-performance adhesive tape used in various industries. Made from polyimide film with a silicone pressure-sensitive adhesive coating, it offers impressive features such as heat resistance up to 260 degrees Celsius, high tensile strength, excellent chemical resistance, easy peel-off without leaving residue, and compliance with RoHS standards.
In the electronic and electrical industry, Kapton tape is commonly used for insulation wrapping of H-class motors and transformer coils with stringent requirements. It is also ideal for wrapping and fixing high-temperature resistant coil ends, protecting thermal resistance for temperature measurement, entangling capacitors and wires, and bonding insulation under high-temperature working conditions.
In the circuit board manufacturing industry, Kapton tape finds applications in electronic protection paste, particularly for SMT temperature resistance protection, electronic switches, PCB board protection, electronic transformers, relays, and other electronic components that require high-temperature resistance and moisture protection.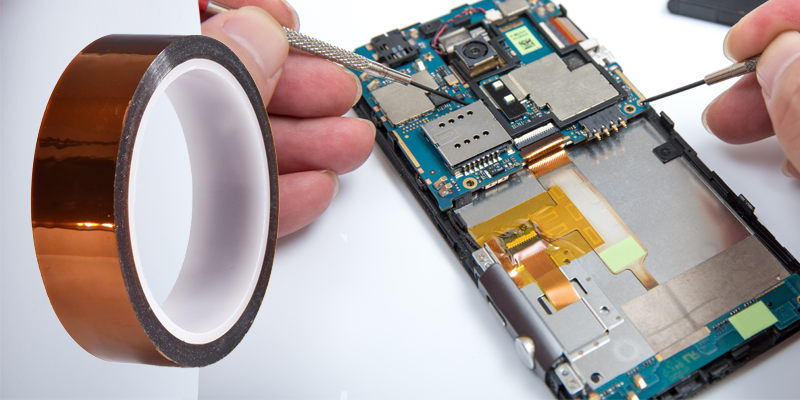 2. Green PET Protection Tape, is made from the polyester film as a substrate and coated with silicone pressure-sensitive adhesive. With a solvent-free production process, it guarantees environmental protection by not releasing any harmful substances.
This tape offers excellent resistance to high temperatures, maintaining its performance even in environments as hot as 200℃. Additionally, it exhibits good oil resistance, corrosion resistance, and water resistance, making it suitable for use in various harsh environments.
In the electronics industry, Green PET Protection Tape is commonly used for fine lamination and insulation protection in high-temperature processes like semiconductors and circuit boards. It finds applications in electroplating, electrophoresis, ultra-high temperature baking paint, powder coating, chip component terminal electrodes, and more.
Moreover, this tape is easy to work with, as it can be easily cut into different sizes and shapes according to customer requirements.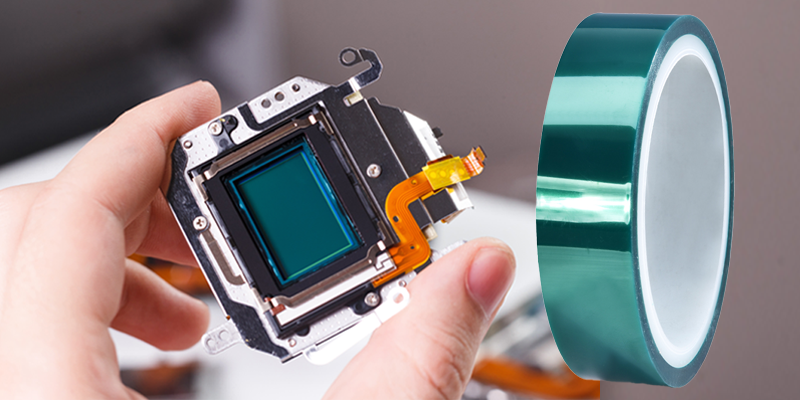 3. PET Waste Discharge Tape, also known by various names such as silent waste tape, polarizer film tearing tape, stripping tape, film stripping tape, LCD stripping tape, TFT-LCD film stripping tape, and POL tape, is specifically designed for the transmission of polarizers and the removal of off-type protective films during the attachment of LCD and touch screen OCA optical polarizers. It is also used for tearing off various protective films.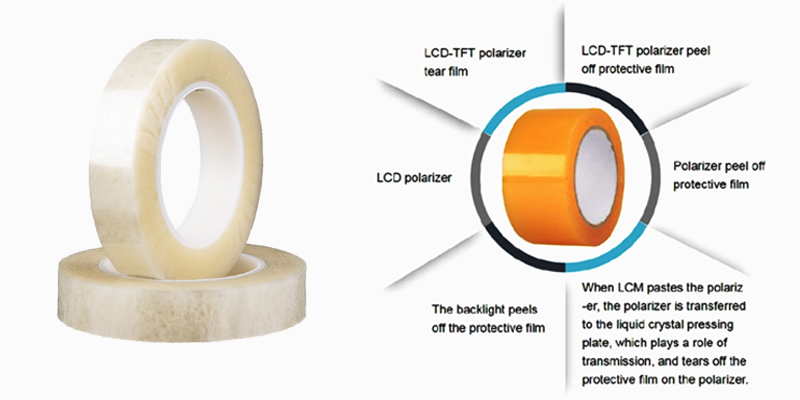 4. Double Side PET Film Tape is another versatile adhesive tape that uses PET film as a carrier, with pressure-sensitive adhesive coated on both sides.
This tape possesses excellent initial tack, holding power, shearing resistance, and superior bond strength under high temperatures.
It is widely used for fixing and bonding in electronic product accessories such as cameras, speakers, graphite flakes, battery bunkers, and LCD cushions, as well as for automotive ABS plastic sheets.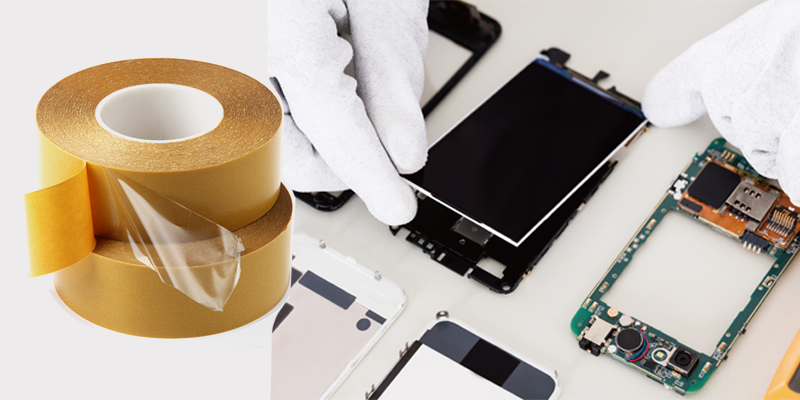 In conclusion, these high-quality adhesive tapes offer exceptional performance and are beneficial in a range of electronic applications.
The majority of the tapes mentioned above are made from PET film, a base material with numerous advantages. Here are some key benefits of PET film:
1. It exhibits exceptional mechanical properties and boasts high impact strength.
2. PET film is resistant to oil, fat, dilute acids, dilute alkalis, and most solvents.
3. It demonstrates excellent resistance to both high and low temperatures.
4. PET film possesses outstanding barrier properties against gas, water, oil, and odors.
5. With its high transparency, PET film can effectively block ultraviolet rays and offers a glossy finish.
6. PET film is non-toxic, tasteless, and guarantees a hygienic and safe user experience.
Understanding the remarkable properties of PET material allows us to grasp its immense importance in the electronics industry.
By using these different types of tapes, electronics manufacturers can ensure the proper protection, assembly, and disposal of their products. Each tape serves a specific purpose, contributing to the efficient and reliable production of electronic devices.
If you are interested in the aforementioned tapes or would like to explore more of our products, kindly reach out to us.