Surface protection is of paramount importance in preserving the durability and appearance of a wide range of materials and surfaces. Whether it's within the context of construction, renovation, or transportation, surfaces are susceptible to harm from a multitude of sources, including dust, dirt, moisture, paint, and scratches.
Neglecting to safeguard surfaces can result in exorbitant repair costs, project delays, and a diminished aesthetic appeal. Thus, the practice of surface protection is imperative for prolonging the lifespan and upholding the quality of surfaces, whether they encompass flooring, walls, countertops, furniture, or any other exposed area.
Within the domain of surface protection, Pretaped Covering Masking Film emerges as a valuable asset engineered to shield surfaces from harm during various undertakings, such as painting, remodeling, or general maintenance. This innovative product seamlessly merges the advantages of masking tape and protective film, offering a practical and effective solution. Pretaped Covering Masking Film stands as a versatile, multi-purpose product that simplifies the task of covering and safeguarding surfaces, rendering it an indispensable instrument for both seasoned professionals and avid DIY enthusiasts.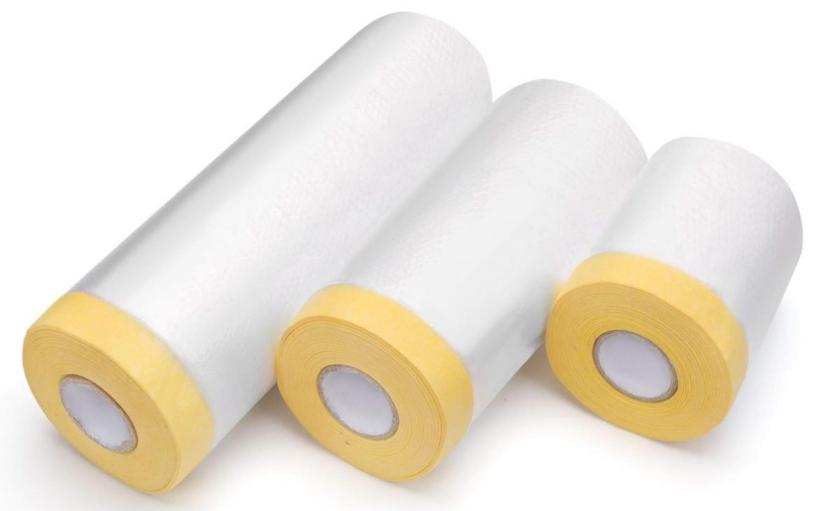 Features and Advantages of Pretaped Covering Masking Film
Material and Durability
Premium Material for Reliable Protection: Pretaped Covering Masking Film is meticulously crafted from top-grade materials, assuring steadfast surface protection. Its sturdy composition serves as a formidable shield against dust, dirt, moisture, and paint, guaranteeing the preservation of valuable surfaces.
Exceptional Resistance to Common Chemicals and Paints: This masking film exhibits remarkable resilience against the typical chemicals and paints encountered in diverse applications. It acts as a robust barrier, effectively thwarting any accidental spills or splashes from compromising the underlying surfaces.
User-friendliness
Effortless Application Process: Pretaped Covering Masking Film simplifies the application process, offering users a swift and straightforward experience. With no need for intricate tools or techniques, it saves both time and effort during surface protection.
Precise Alignment with Pre-taped Edges: The inclusion of pre-taped edges ensures precise alignment during application. This feature streamlines the task of accurately covering surfaces, reducing the likelihood of misalignment or the need for rework.
Compatibility Across Multiple Surfaces
Versatility for Various Surfaces: Pretaped Covering Masking Film exhibits remarkable versatility, making it suitable for an extensive array of surfaces, including glass, wood, metals, and more. Its adaptability allows you to safeguard diverse types of surfaces with a single product.
Residue-free Removal: An outstanding benefit of this masking film is its residue-free removal. This ensures that protected surfaces remain clean and intact, eliminating the need for extensive post-protection cleanup.
Eco-conscious Attributes
Crafted from Recyclable Materials: Pretaped Covering Masking Film embraces environmental responsibility by being constructed from recyclable materials. Opting for this product contributes to sustainable practices, reducing the ecological footprint associated with disposable alternatives.
Waste Reduction through Reusability: Another eco-friendly feature is its reusability. Rather than discarding it after a single use, you can remove and store Pretaped Covering Masking Film for future projects, effectively curbing waste generation and promoting sustainability.
Cost-effectiveness
Extended Durability Minimizes Replacement Needs: The enduring nature of Pretaped Covering Masking Film substantially diminishes the frequency of replacements. Its robust design ensures it can withstand multiple uses, translating into cost savings by reducing the need for frequent purchases of new protection materials.
Savings in Time and Money for Labor and Cleanup: The efficiency of this masking film not only conserves material costs but also trims labor and cleanup expenses. Its effortless application, clean removal, and protective properties contribute to a more efficient and cost-effective execution of projects and maintenance tasks.
Applications of Pretaped Covering Masking Film
Painting and Decorating
Safeguarding Walls, Floors, and Furniture from Paint Splatters: Pretaped Covering Masking Film proves indispensable for painting and decorating endeavors. It establishes a protective shield that effectively guards walls, floors, and furniture against unwelcome paint splatters and drips, preserving the pristine condition of your surfaces.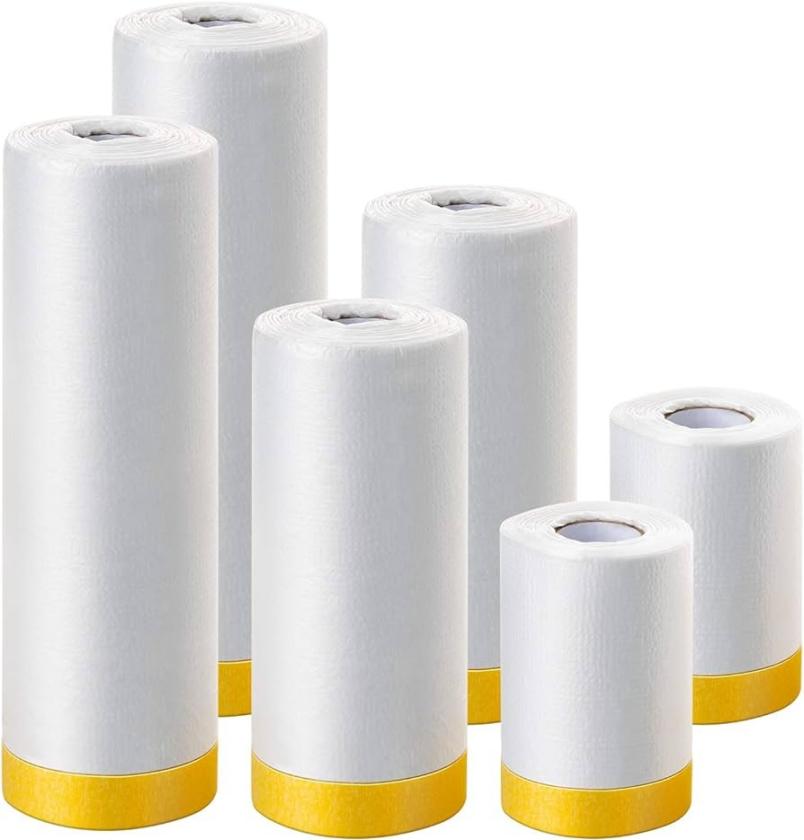 Facilitating Precise Paint Lines: This masking film contributes to the creation of clean and precise paint lines. It ensures that paint is applied with precision to achieve a professional finish with sharp edges.
Construction and Renovation
Preserving Surfaces from Dust, Debris, and Scratches: In the realm of construction and renovation projects, surfaces are vulnerable to harm from dust, debris, and inadvertent scratches. Pretaped Covering Masking Film serves as a dependable shield, protecting surfaces from these potential hazards and thereby upholding their quality and appearance.
Maintaining Tidy Work Environments: Beyond its protective role, this masking film aids in the maintenance of clean and well-organized workspaces. It contains dust and debris, streamlining the cleanup process and reducing the risk of contamination during construction or renovation tasks.
Automotive Work
Ensuring Car Part Protection during Repairs or Painting: Automotive workshops benefit greatly from Pretaped Covering Masking Film, which plays a vital role in safeguarding car parts during repairs or painting. It ensures that delicate areas and components remain free from overspray, paint, or any potential damage.
Preventing Overspray: In the automotive painting process, overspray can pose a significant challenge. This masking film provides a precise barrier that effectively prevents overspray from affecting areas not intended for painting, resulting in a polished and professional finish.
General Home Maintenance
Shielding Furniture and Surfaces during Cleaning or Relocation: During routine home maintenance tasks, such as cleaning or furniture relocation, Pretaped Covering Masking Film serves as a valuable protective tool. It acts as a barrier, shielding your valuable possessions from scratches, stains, and other potential damage.
Mitigating Spills and Accidents: Accidental spills and mishaps can occur during various household activities. This masking film serves as a preventive measure, ensuring that inadvertent spills do not harm your surfaces, simplifying cleanup and reducing stress.
Over All, Pretaped Covering Masking Film finds versatile applications across a range of scenarios, including painting, construction, automotive work, and general home maintenance. Its role in surface protection, cleanliness maintenance, and damage prevention makes it an indispensable asset in diverse settings, simplifying tasks and delivering professional outcomes.
How to Effectively Utilize Pretaped Covering Masking Film
Surface Preparation
Ensuring a Dust-Free Surface with Thorough Cleaning: Before employing Pretaped Covering Masking Film, it's imperative to commence with a clean and dust-free surface. A comprehensive wipe-down of the area is essential to eliminate any dirt, dust, or debris that could compromise the film's adhesion and its ability to protect the surface.
Selecting the Appropriate Size and Type for the Task: Diligently assess and choose the masking film's size and type that best align with your specific project. It's vital to ensure that the selected film sufficiently covers the target surface and is compatible with its type and the nature of the task at hand.
Application Techniques
Precise Unrolling and Accurate Placement: Initiate the application process by unrolling the masking film and positioning it carefully over the intended surface. Pay close attention to achieving precise alignment, guaranteeing comprehensive coverage. For larger areas, consider enlisting an extra pair of hands to assist in achieving accuracy.
Eliminating Air Bubbles and Wrinkles: As you apply the film, take care to smooth it out meticulously to eliminate any unwanted air bubbles or wrinkles. A methodical approach from one end to the other helps prevent these imperfections. In the event that bubbles or wrinkles do surface, gently lift the film and reapply it, smoothing it as you progress.
Optimal Placement Using Pre-taped Edges: Leverage the pre-taped edges of the masking film to enhance alignment accuracy. These pre-taped edges facilitate precise and secure placement, mitigating the risk of misalignment or the need for redoing the work.
Removal and Disposal
Gentle Peeling to Prevent Damage: When the time comes to remove Pretaped Covering Masking Film, do so with a gentle and deliberate approach. Avoid hasty removal, as it may result in damage to the protected surface. Ensure that no residue is left behind, which can be easily prevented by cautious removal.
Storage or Responsible Recycling of Used Film: If the masking film remains in good condition after use, contemplate storing it for future projects to maximize cost-effectiveness and environmental sustainability. In cases where reuse is not viable, inquire if the film is recyclable in your area and dispose of it in an eco-conscious manner.
Effective utilization of Pretaped Covering Masking Film necessitates meticulous surface preparation, precise application techniques, and considerate removal and disposal practices. Adhering to these guidelines ensures the optimal performance of this versatile protective tool while preserving the integrity and safety of your surfaces.
CONCLUSION
In summary, Pretaped Covering Masking Film stands out as a versatile and invaluable asset with a wide range of applications, encompassing painting, construction, automotive work, and general home maintenance. Its remarkable ability to deliver dependable surface protection, uphold cleanliness, and prevent damage underscores its indispensability in diverse scenarios, streamlining tasks and ensuring professional outcomes.
Whether you are a seasoned professional in the construction industry or a dedicated DIY enthusiast, Pretaped Covering Masking Film presents an efficient and cost-effective solution for safeguarding surfaces and simplifying projects. Its noteworthy attributes, including chemical resistance, user-friendly application, and eco-conscious design, establish it as a trusted choice for an extensive array of tasks.