Aluminium Foil Fiberglass Butyl Tape, often referred to simply as Butyl Tape, stands as a versatile adhesive sealing solution widely employed in the realms of construction, automotive, and industrial settings. Crafted to deliver exceptional adhesion and sealing capabilities, it has emerged as a favored option for sealing joints, seams, and gaps across a diverse array of surfaces.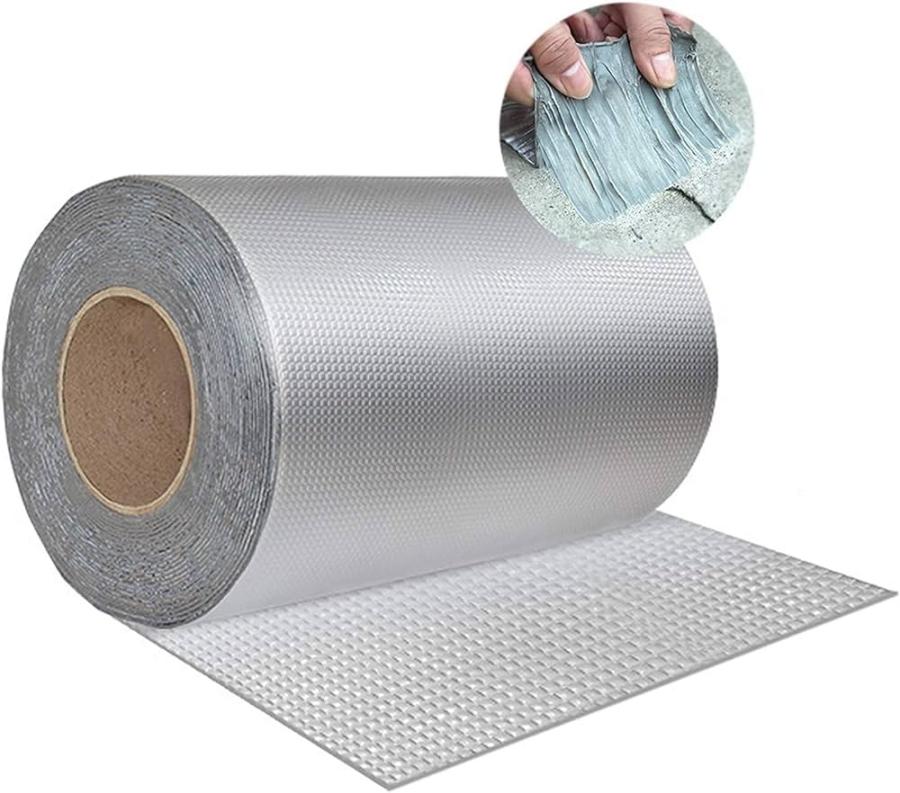 Renowned for its waterproofing prowess, resistance to the elements, enduring durability, and user-friendly application, Aluminium Foil Fiberglass Butyl Tape represents an invaluable asset across multiple industries. Its remarkable ability to establish dependable seals under various environmental conditions and on diverse substrates positions it as an indispensable tool in a wide range of applications.
Composition and Characteristics: An In-Depth Look at Aluminium Foil Fiberglass Butyl Tape
Aluminium Foil Fiberglass Butyl Tape stands out due to its composite composition, uniting three essential elements:
1) Aluminum: This tape incorporates a delicate aluminum foil layer on one side, contributing to its protective and reflective attributes. The aluminum foil acts as a barrier against moisture, UV radiation, and corrosion, rendering it an ideal choice for outdoor and exposed applications.
2) Fiberglass: To reinforce the tape's structure and bolster its strength, a layer of fiberglass mesh is seamlessly integrated into the butyl rubber core. The fiberglass imparts stability, preventing tears and ensuring the tape's integrity even under stress.
3) Butyl Rubber: At its core, the tape predominantly comprises butyl rubber, a synthetic rubber celebrated for its extraordinary sealing and adhesive qualities. Butyl rubber exhibits remarkable flexibility, enabling the tape to adapt to irregular surfaces and maintain a secure and enduring seal.
Thermal Resistance Properties and Advantages
Aluminium Foil Fiberglass Butyl Tape showcases notable thermal resistance properties and advantages:
1) Heat Resistance: The core component of the tape, butyl rubber, demonstrates excellent heat resistance. This attribute renders the tape suitable for applications where exposure to high temperatures is likely, such as HVAC systems, automotive engine compartments, and roofing in sun-drenched climates.
2) Cold Resistance: Conversely, butyl rubber retains its sealing capabilities in cold conditions, averting brittleness or adhesive loss. This versatility enables the tape's use in diverse climates and weather conditions.
3) Reflective Properties: The aluminum foil layer reflects heat and sunlight, assisting in maintaining surface temperatures in hot environments. This characteristic is particularly advantageous for insulation and energy efficiency endeavors.
4) UV Protection: The aluminum foil endows the tape with protection against detrimental UV rays, ensuring the tape's resilience and resistance to deterioration during prolonged exposure to sunlight.
Durability and Lifespan Considerations
Aluminium Foil Fiberglass Butyl Tape has gained renown for its durability and extended lifespan:
1) Resistance to Wear and Tear: The fiberglass reinforcement significantly heightens the tape's resistance to tearing, punctures, and abrasion, endowing it with robustness and dependability in demanding applications.
2) Moisture Resistance: The inherent moisture resistance of the butyl rubber core thwarts water ingress and preserves its adhesive qualities over time. This resilience contributes to the tape's prolonged longevity.
3) Corrosion Prevention: The aluminum foil layer functions as a shield against corrosion, ensuring the tape remains effective even when exposed to corrosive elements, such as saltwater or acidic substances.
4) Low Maintenance: Owing to its durability and resilience against environmental factors, the tape necessitates infrequent replacements or maintenance, establishing it as a cost-effective choice over the long term.
Aluminium Foil Fiberglass Butyl Tape melds a distinctive blend of materials, encompassing aluminum, fiberglass, and butyl rubber, to deliver outstanding thermal resistance properties, durability, and an extended lifespan. Its capacity to endure high and low temperatures, withstand wear and tear, and offer protection against environmental factors underscores its pivotal role in a variety of applications.
Applications of Aluminium Foil Fiberglass Butyl Tape: Diverse Uses and Impact
Aluminium Foil Fiberglass Butyl Tape boasts a wide array of uses across various sectors, owing to its exceptional sealing and thermal resistance attributes. Here are some of the primary application domains:
Residential
1) Home Repairs: Homeowners rely on this tape for a broad spectrum of repair tasks, including addressing roof leaks, sealing wall cracks, and mending damaged gutters.
2) Sealing Ducts: It is employed to seal HVAC ducts, mitigating air leaks and enhancing energy efficiency in residential heating and cooling systems.
3) Window Sealing: Butyl tape plays a crucial role in sealing gaps and seams around windows and doors, elevating insulation and diminishing drafts.
4) Plumbing: Home plumbing systems benefit from this tape as it adeptly seals pipes, warding off water leaks.
Commercial
1) Building Insulation: Contractors employ the tape to insulate commercial structures by sealing gaps and joints in walls, roofs, and floors. This results in heightened energy efficiency and reduced heating and cooling expenses.
2) HVAC System Sealing: Aluminium Foil Fiberglass Butyl Tape is indispensable for sealing HVAC systems, encompassing ductwork and vents, ensuring efficient temperature regulation in commercial spaces.
3) Roofing: It is an essential tool for sealing roof joints, flashings, and seams, endowing commercial roofing systems with a waterproof barrier and extending their lifespan.
4) Refrigeration: In commercial refrigeration applications, this tape contributes to maintaining temperature consistency by sealing joints and connections in cooling systems.
Industrial
1) Machinery Sealing: In industrial settings, the tape finds use in sealing machinery and equipment, shielding them from moisture, dust, and contaminants.
2) High-Temperature Applications: Its heat resistance makes it ideal for sealing joints and seams in industrial equipment exposed to elevated temperatures, such as ovens, furnaces, and boilers.
3) Pipeline and Oil Industry: In the oil and gas sector, Butyl Tape is invaluable for sealing pipelines and connections, offering corrosion protection and leak prevention.
4) Aerospace: The tape plays a pivotal role in the aerospace domain, where it is employed to seal aircraft components, ensuring airtight and moisture-resistant seals.
5) Marine: In marine applications, it is instrumental in sealing boat seams, windows, and hatches, delivering waterproofing and protection against saltwater corrosion.
6) Manufacturing: Manufacturers utilize this tape to seal enclosures, control cabinets, and electrical connections, safeguarding sensitive equipment from environmental elements.
The versatility, durability, and thermal resistance embodied by Aluminium Foil Fiberglass Butyl Tape position it as an indispensable tool in a wide spectrum of residential, commercial, and industrial applications. Its contributions encompass enhanced performance, heightened energy efficiency, and prolonged durability across diverse settings.
Real-Life Applications of Aluminium Foil Fiberglass Butyl Tape
Roof Leak Repair
Challenge: A homeowner residing in a residential property encountered persistent roof leaks, leading to interior damage during heavy rainfall.
Solution: The remedy involved the application of Aluminium Foil Fiberglass Butyl Tape, effectively sealing gaps and joints in the roof. The tape's remarkable waterproofing qualities played a pivotal role in preventing further leaks.
Outcome: The application of the tape successfully mitigated the roof leaks, sparing the homeowner from expensive repairs and potential structural harm. This case highlights the tape's effectiveness in residential settings, underscoring the importance of proactive maintenance and timely repairs to avert extensive damage.
Lesson: The significance of proactive maintenance and the utilization of top-tier sealing materials like Butyl Tape cannot be overstated. Such measures can shield homeowners from substantial expenses and property deterioration in the long term.
Commercial Building Insulation
Challenge: A commercial edifice grappled with exorbitant energy costs due to inadequate insulation, resulting in discomfort for occupants and escalated operational expenditures.
Solution: To address this concern, contractors administered Aluminium Foil Fiberglass Butyl Tape to seal gaps and joints within the building's envelope, thereby enhancing insulation and curtailing energy consumption.
Outcome: Notably, the building's energy efficiency witnessed substantial enhancement, leading to diminished utility bills and an augmented indoor climate for occupants. This case serves as an illustration of how the tape can contribute to energy conservation and sustainability within commercial contexts.
Lesson: Adequate insulation, accomplished through effective sealing solutions like Butyl Tape, can exert a substantial influence on energy efficiency and operational expenses in commercial structures.
CONCLUISON
In conclusion, Aluminium Foil Fiberglass Butyl Tape is a versatile and indispensable sealing solution that finds applications in various sectors, including residential, commercial, and industrial settings. Through real-life case studies, we've seen how this tape can effectively address diverse challenges, from roof leak repairs to enhancing energy efficiency in commercial buildings. These cases emphasize the significance of proactive maintenance and the use of high-quality sealing materials like Butyl Tape to save costs, prevent damage, and ensure long-term durability.
This tape's exceptional waterproofing, thermal resistance, and durability properties make it a valuable asset in numerous applications, contributing to improved performance, energy conservation, and the protection of structures and equipment. As technology and materials continue to advance, Butyl Tape remains a reliable solution for sealing and insulation needs, offering both immediate and long-term benefits in a wide range of scenarios.