Introducing our top-tier PVC Pipe Wrapping Tape in convenient Log Roll form—your go-to for robust protection of piping against the elements and physical stress. Made from premium PVC, this tape forms a durable, watertight barrier, shielding pipes from rust, dampness, and deterioration. Ideal for both residential and industrial use, our log roll offers a generous quantity for seamless, effective application, underscoring the essential role of reliable pipe maintenance in ensuring lasting functionality and efficiency.
Product Specifications
Material Composition and Characteristics
Our log roll is crafted from top-tier industrial-grade materials, guaranteeing exceptional durability and performance. Its primary composition comprises a robust synthetic rubber compound, renowned for its remarkable resistance to wear and tear. Moreover, the roll boasts a reinforced layer of adhesive backing, facilitating effortless installation and ensuring a dependable bond.
Adhesive Excellence and Attributes
Our log roll is equipped with adhesive backing of the highest quality, known for its robust bonding capabilities. It firmly adheres to a variety of surfaces, including metal, concrete, and PVC pipes. Furthermore, this adhesive is engineered to maintain its integrity even when subjected to extreme temperature fluctuations, guaranteeing a long-lasting seal.
Durability and Resilience
Engineered for resilience, our log roll is designed to endure the harshest environmental conditions. It excels in resisting corrosion, moisture, and abrasion, making it the preferred choice for both indoor and outdoor applications. Whether exposed to water, chemicals, or physical abrasion, this product maintains its structural integrity over time.
Adaptability and Fit for Diverse Pipe Sizes
The log roll's remarkable flexibility allows for effortless customization to accommodate various pipe sizes and configurations. It can be easily cut and molded to match pipes with different diameters, ensuring a snug and secure fit. This adaptability makes it suitable for a broad spectrum of piping systems and applications.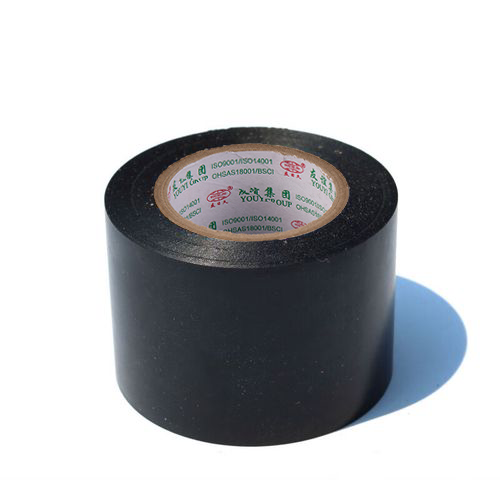 Applications and Uses
Industrial and Construction Usage
Our log roll finds extensive application in industrial and construction settings. It is employed for insulating and sealing pipes, ensuring optimal thermal efficiency. Additionally, it serves as a protective barrier against corrosion and mechanical damage in high-stress environments, such as manufacturing facilities and construction sites.
Home Repair and Maintenance
In the realm of home repair and maintenance, our log roll proves invaluable. It can be used for insulating and sealing pipes in residential plumbing systems, preventing heat loss and reducing energy costs. It also offers protection against moisture and helps extend the lifespan of household piping, making it an essential tool for homeowners and DIY enthusiasts.
Specialty Applications
Our log roll is well-suited for specialty applications, including underwater scenarios and chemical plants. Its durability and resistance to corrosion make it suitable for use in submerged environments, while its chemical resistance ensures safe and secure sealing in chemical processing plants and similar facilities. Its adaptability and longevity enhance its utility in these specialized areas.
Preventative Maintenance and Longevity Enhancement for Piping Systems
One of the primary uses of our log roll is in preventative maintenance and the enhancement of piping system longevity. By effectively insulating pipes and sealing potential vulnerabilities, it helps prevent costly repairs and reduces the risk of pipe failures. This makes it an essential product for facility managers and maintenance professionals looking to ensure the reliability and durability of their piping systems over the long term.
Advantages Over Other Methods
Comparison with Traditional Wrapping Materials
Our log roll offers significant advantages over traditional wrapping materials like insulation tape or cloth. Unlike these materials, the log roll provides a consistent and uniform layer of insulation and sealing due to its adhesive backing. This eliminates the need for messy adhesives or multiple layers of wrapping, resulting in a quicker and more efficient installation process. Additionally, the log roll's durability and resistance properties outperform traditional materials, ensuring a longer-lasting solution that requires less frequent replacement.
Cost-Effectiveness and Bulk Supply Efficiency
Compared to other methods, our log roll presents a cost-effective solution. It comes in a convenient bulk supply format, reducing the overall cost per unit compared to purchasing individual rolls of tape or insulation. Its standardized dimensions also mean less material wastage, further enhancing cost efficiency. Moreover, the ease of installation minimizes labor costs, making it an economical choice for both small-scale and large-scale projects.
Long-Term Savings on Repairs and Maintenance
The log roll's exceptional durability and resistance attributes translate into substantial long-term savings on repairs and maintenance. Its ability to withstand harsh environmental conditions and resist corrosion, moisture, and abrasion means fewer instances of pipe failures and less frequent replacements. This not only reduces material and labor costs but also minimizes downtime and inconvenience. Over time, the log roll's preventative properties contribute significantly to extending the lifespan of piping systems, resulting in substantial cost savings for businesses and homeowners alike.
FAQs
Guidelines for Proper Storage and Handling of Log Rolls
Store log rolls in a cool, dry location, away from direct sunlight.
Preserve rolls within their original packaging to shield them from dust and contaminants.
Prevent stacking heavy objects on top of the rolls to avoid deformation.
Wear gloves and safety goggles when handling log rolls.
Ensure adequate ventilation while working with the adhesive to avoid inhalation risks.
Troubleshooting Common Problems
In case of inadequate adhesive bonding, thoroughly clean the surface and apply pressure during installation.
For fitting issues, measure and cut the log roll accurately to match the pipe size.
If the roll sustains damage during handling, utilize a patch or replacement section to maintain the seal.
Reach out to our customer support team for technical assistance or to inquire about our warranty policy.
CONCLUSION
In conclusion, our bulk log roll of wrapping tape offers industrial-grade PVC pipe protection with unrivaled durability and efficiency. This versatile solution excels in insulating, sealing, and safeguarding piping systems in various applications. Its cost-effectiveness, ease of use, and long-term benefits make it a top choice for professionals and homeowners alike. Trust in the quality and performance of our log roll to ensure the longevity and reliability of your piping systems.