Kraft tape has been around for quite some time. However, it is still one of the premier methods for securing paper in place, and that's a fact. Having said that, however, kraft tapes have evolved over time. A newer variant of this solution on a theme are water-activated tapes – and they can absolutely compliment your efforts at streamlining processes.
Water-activated Kraft Paper Tape is ideal for sealing boxes and envelopes, it has a strong adhesive that is activated by water and will not leave behind any sticky residue once removed. Once applied it will stay stuck to its surface until you remove it with warm water. Water-activated Kraft Paper Tape can be used on a wide range of surfaces including cardboard, paper, plastic, glass and metal. It's also perfect for quick fixes such as holding together torn envelopes or creating makeshift seals around items that need protection from moisture or dust.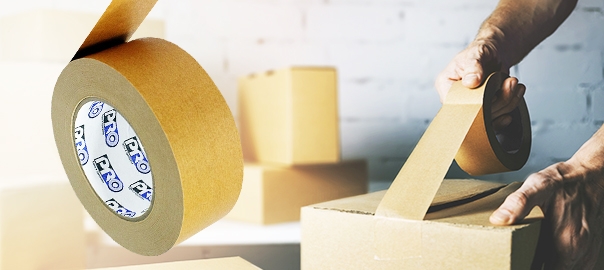 The Needs for Effective Sealing
Importance of Proper Sealing in Various Industries
Sealing plays a critical role in the manufacturing process, ensuring that products are made according to specification and that they are safe for end-users. But sealing is not a one-size-fits-all solution. Seals must be designed to meet specific requirements and needs.
Challenges Associated ith Traditional Sealing Methods
Inconsistent quality: The quality of seals produced using traditional methods is inconsistent due to variations in temperature, pressure and speed. This can make it difficult to ensure safety standards are met across all products.
Time consuming: Traditional sealing methods require a lot of time as they involve multiple stages and processes that involve multiple machines and operators. This increases both costs and lead times significantly making it difficult for manufacturers to meet demand efficiently.
High maintenance costs: Traditional seals require regular maintenance as they are prone to wear and tear over time which can lead to costly replacements or repairs if left untreated for long periods of time.
Water-Activated Kraft Tape as an Innovative Solution
Water-Activated Kraft Tape is a simple, affordable, and effective way to seal. It's an innovative solution that can help you save money and time for your sealing projects.
Water-activated kraft tape is a new product designed to seal boxes, but it's not just another tape. It's a unique product that requires no adhesive to work effectively.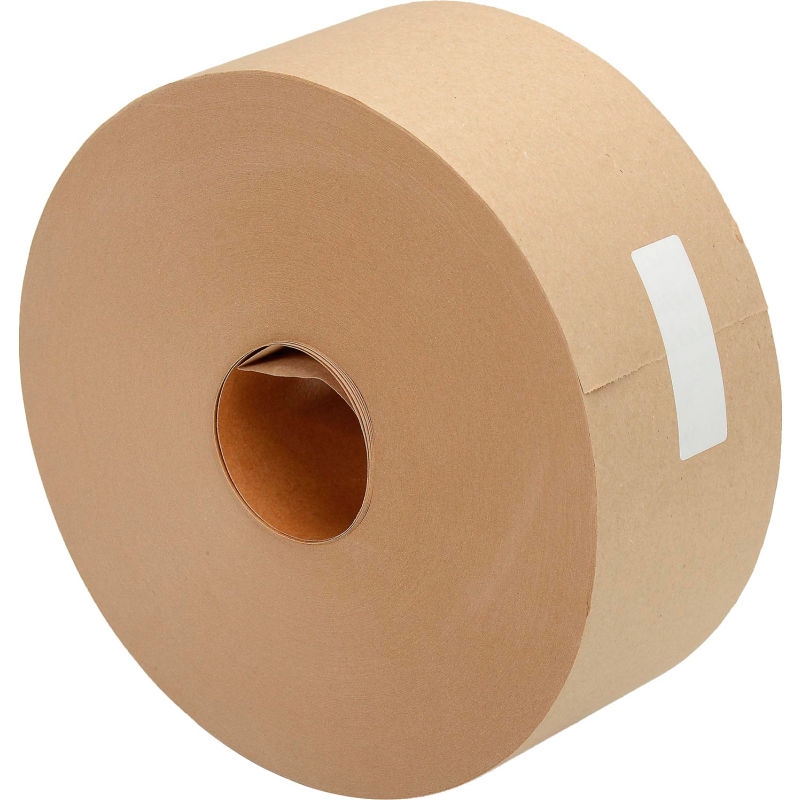 Diverse Sealing Solutions: Adaptable Applications
Water-Activated Kraft Tape exhibits remarkable versatility in sealing various packages and materials. Its water-activated adhesive properties make it particularly suitable for sealing irregularly shaped containers, firmly adhering to an array of surfaces, including cardboard, paper, plastic, and other porous materials.
Here are some versatile applications for Water-Activated Kraft Tape:
1) Preserving Freshness: Seal food products like bread and meats to maintain their freshness and quality.
2) Secure Packaging: Use it to seal water bottles and various plastic containers securely.
3) Efficient Shipping: Seal boxes, cartons, and other shipping materials with confidence.
4) Safe Transit: Secure pallets during loading or unloading operations for trucks or rail cars.
Multi-Purpose Utility in Shipping, Packaging, and Crafting
Water-Activated Kraft Tape's unique adhesive properties make it an invaluable tool in a myriad of applications, spanning shipping, packaging, and crafting endeavors. Its adhesive prowess extends to a broad spectrum of materials, including paper, cardboard, fabric, and beyond, rendering it an ideal solution for diverse projects.
This tape proves its worth in various scenarios:
1) Packaging Perfection: Employ Water-Activated Kraft Tape to wrap gifts or package items for seamless shipping, adding a touch of professionalism to your parcels.
2) Crafting Creativity: Elevate your crafting game by incorporating water-activated kraft tape as a finishing touch on handmade cards and other creative projects.
3) Merchandising Magic: If you're in retail, leverage the versatility of kraft tape to showcase your wares, whether it's jewelry, clothing, or more, adding an artisanal flair to your storefront or craft show booth.
Customized Sealing for Tailored Needs
Water-Activated Kraft Tape on a Roll offers the flexibility to tailor your sealing solutions precisely to your requirements. Simply cut it to your desired size using scissors or a utility knife, ensuring a customized fit for every sealing endeavor.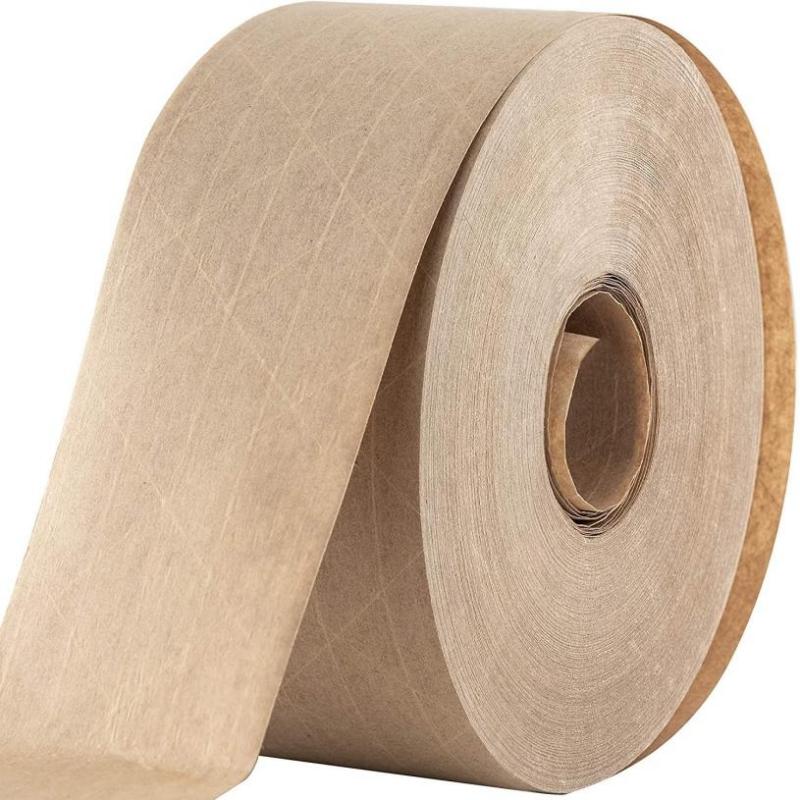 Advantages
Key Advantages of Using Water-Activated Kraft Tape
1. It can be used to create a temporary or permanent seal on cardboard boxes, as well as other corrugated materials.
2. It can be used for shipping and moving applications where there is no need for heat activation or removal of gumminess after application.
3. There are no fumes or odors associated with its use, making it safer than traditional packing tapes (which contain dangerous chemicals).
Security, Eco-friendliness, and Tamper-Evident
Water-activated tape is not only waterproof, but also tamper-evident. This makes it ideal for sealing packages that need to remain intact during shipping or storage. The tape changes color when someone tries to open it, so it's easy for recipients to see if the package has been tampered with. The material can also be used as security seals on doors, windows or other items that need extra protection from break-ins.
Water-activated tape is made from natural materials like paper fibers or cotton fibers that are bleached white or dyed yellow before being mixed together with glue. It doesn't contain any toxic chemicals like plasticizers or VOCs (volatile organic compounds). This means you can use it safely in areas where there are sensitive people who might be allergic to some adhesives or other materials used in packaging materials.
Cost-Effectiveness and Ease of Use
Water-activated kraft tape is an inexpensive product that can be used for many different applications. For example, it can be used to seal boxes or to hold together packages for shipping purposes. This type of tape does not have any adhesive on it when purchased, so you have to add your own adhesive before using it. The price of this product can vary depending on the amount you buy at once and whether or not there is a special offer running at the time of purchase. However, most people find that they can get a good deal when purchasing water activated kraft tape because there are so many companies offering discount coupons online these days.
Another advantage of water activated kraft tape is its ease of use. There are several different ways in which you can apply this type of tape to whatever items you want to secure together or seal shut. You can use your fingers or scissors to tear off small pieces from the roll so that you don't waste any material while working with it.
CONCLUSION
In summary, our exploration of Water-Activated Kraft Tape has revealed its immense potential as a sealing solution. This tape has demonstrated its reliability and versatility across various industries and applications, offering a multitude of undeniable benefits.
In conclusion, it is evident that Water-Activated Kraft Tape transcends its role as a mere sealing solution; it emerges as a robust tool that seamlessly combines strength, security, and sustainability. Beyond safeguarding the contents of packages, it aligns with environmentally responsible practices, making it a choice that yields advantages for both businesses and the environment.
We strongly encourage professionals, businesses, and individuals to recognize and harness the potential of Water-Activated Kraft Tape for their packaging and sealing requirements. Embracing this innovative sealing solution not only enhances the security of your shipments but also contributes to a reduced environmental footprint, paving the way for a more sustainable and responsible future. Remember, sealing solutions extend beyond safeguarding the contents of a box; they have the power to safeguard our planet as well.