Do you need help finding the right tape for packing your carton?
Are you unsure of alternatives to BOPP tape for box sealing?
If you're having trouble selecting the right carton packing tape, or finding a trustworthy tape supplier, I can provide you with a solution.
Founded in March 1986, Fujian Youyi Adhesive Tape Group is a high-tech enterprise specializing in adhesive materials. With expertise in R&D, production, sales and service, we have become an integrated industry leader.
We have 20 manufacturing sites covering 3,600 mu (593 acres) with more than 8,000 dedicated employees. Our state-of-the-art facility houses more than 200 advanced tape coating lines, enabling us to rank among the top manufacturers in China.
T extensive sales network covers majors and cities across the country, ensuring comprehensive coverage and distribution. Our series of products become hot sellers and earn a good reputation in Southeast Asia, the Middle East, Europe and America, up to 80 countries and regions.
Over the years, our pursuit of excellence has won us numerous honors, including the prestigious "China Well-known Trademarks", "Fujian Famous Brand Products", "High-tech Enterprises" "Fujian Science and Technology Enterprises", "Fujian Packaging Leading Enterprises", "China Adhesive Tape Industry Model Enterprises" and other honorary titles. We are proud to have certifications such as ISO 9001, ISO 14001, SGS, FSC and BSCI, assuring our customers of our unwavering dedication to quality and sustainable development.

BOPP tape, commonly known as carton packing tape, is widely recognized for its excellent adhesion, high tensile strength, light weight and affordability. These qualities make it the first choice for carton sealing.
Given the variety of BOPP tapes on the market, it is important to choose the one that best suits your needs. First of all, it is very important to have a basic understanding of BOPP tape. It using BOPP film as carrier, coated with acrylic pressure sensitive adhesive.
When working with suppliers, it is advisable to communicate your specific requirements and consider adjusting film and adhesive thicknesses. It is worth noting that a thicker adhesive layer does not necessarily mean better quality. Film thickness and adhesive thickness should be well matched for best results.
Also, you can choose the color of the tape. In this regard, clear, yellowish and brown are popular choices.
If you're looking to take your business a step further, consider printed tape.
Warning signs printed on BOPP tape help alleviate concerns about damage caused during shipment of goods.
Additionally, using branded BOPP tape can make your packaging stand out and communicate your brand message effectively.
Printing your slogan on BOPP tape is another creative way to promote your brand image.
Finally, Super Clear BOPP tapes have attracted a lot of attention in recent years. This scotch tape does not affect the appearance of the package, has high clarity and functional sealing properties.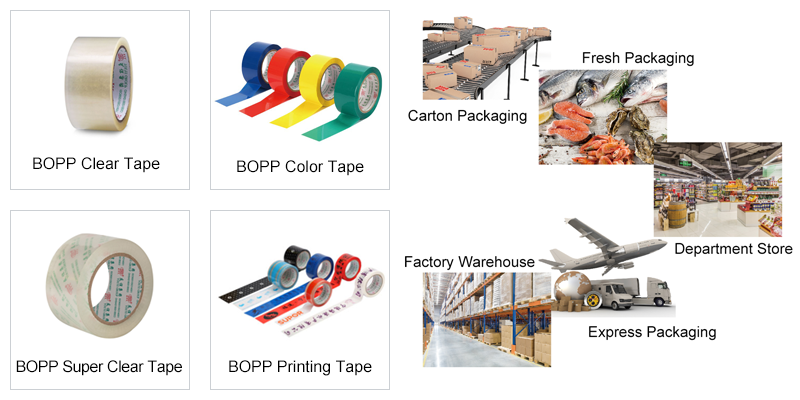 Cloth tape, also known as duct tape, is a multifunctional tape with a wide range of uses. It using textile fiber cloth and coated with pressure-sensitive adhesive.
One of the remarkable advantages of cloth tape is that it is easy to tear off by hand, which is very convenient to use. This tape has strong adhesion and water resistance, making it suitable for packing and sealing heavy objects. It is also resistant to aging, easy to tear, and has excellent tensile properties. Additionally, duct tape is oil, wax and corrosion resistant, ensuring its durability and effectiveness even in challenging environments.
In addition, Cloth Tape is also commonly used for carpet seam and duct seal repairs. Its versatility and reliable bonding properties make it the solution of choice for a wide variety of tasks.
When choosing a duct tape, be sure to consider the mesh and thickness as important indicators. The mesh number indicates the tensile strength of the tape. The higher the mesh number, the stronger the strength and more neat when tearing it. Selecting the proper specification for your specific needs will ensure optimum performance.
In addition, the cloth tape is available in a variety of colors, suitable for different scenes and uses. We usually go for black and silver when it comes to sealing boxes and wrapping pipe. For outdoor applications, green is a good choice. Red and yellow can increase visibility and attract attention.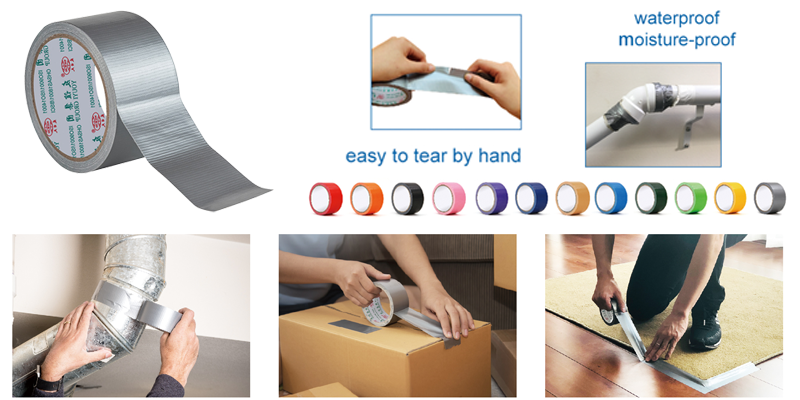 Some markets have environmental requirements for packaging, or you insist on environmental protection, Kraft Paper Tape is an excellent choice. With increasing environmental requirements in the market and increasing emphasis on sustainability, this tape offers the perfect solution.
Kraft Paper Tape using kraft release paper and coated with pressure sensitive adhesive. Its design allows you to choose whether to cover it with a protective film or not. Once removed, the tape exhibits strong adhesion and effectively seals the carton. This not only ensures the safety of the packaging, but also conforms to the trend of international environmental protection practices.
In addition to its adhesive properties, Kraft Paper Tape has high tensile strength and weather resistance. Plus, it's easy to tear apart by hand, offering convenience and ease of use.
Because of these qualities, Kraft Paper Tape is suitable for a wide range of applications including seaming paper, sealing boxes, bundling items, securing machine parts, and covering up and correcting errors on carton markings.
We offer different types of Kraft Paper Tapes. For example, our 100% recyclable Water-activated Non-reinforced Kraft Paper Tape is coated with a starch glue. This allows the entire tape to be recycled with the packaging it comes in. For those looking for even more holding power, we also offer Water-activated Reinforced Kraft Paper Tape. This version incorporates fiberglass, which increases the strength and durability of the tape.
Finally, it is worth noting that many businesses choose to put their logo or slogan on the Kraft Paper Tape. This branding strategy helps to leave a lasting impression on customers and strengthen their perception of the business.
To sum up, Kraft Paper Tape has the advantages of environmental protection, strong adhesion, and convenient use, and is an ideal choice for packaging needs. Its recyclability as well as its high tensile strength and weather resistance ensure practicality and sustainability. Kraft Paper Tapes are available in a variety of options including reinforced and can be customized to specific requirements. Additionally, the option to brand the tape further enhances its value as a marketing tool.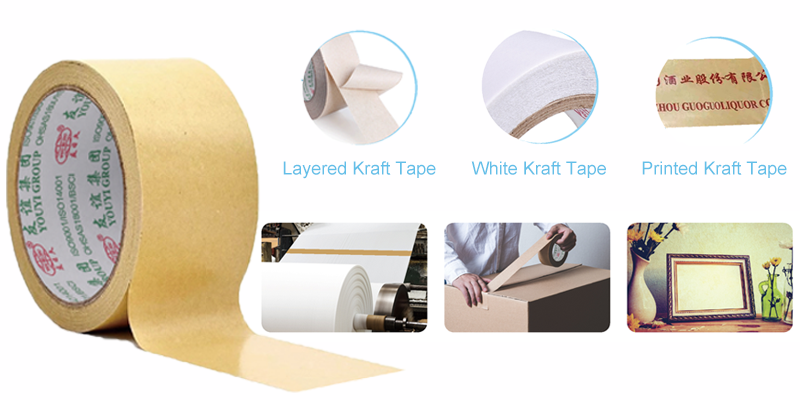 We are the source manufacturer of adhesive tape, and can provide customization in color, base material, glue, printing, size, etc. Don't hesitate, we will be your reliable adhesive tape supplier.