Cold Resistance Aluminum Foil Tape is a specialized adhesive tape engineered to maintain its sealing and insulating properties even in frigid conditions. Its significance lies in safeguarding critical applications such as HVAC systems, outdoor installations, and cold storage, where traditional tapes may fail, ensuring reliable performance and preventing issues like ice buildup.
What is Cold Resistance Aluminium Foil Tape
Material composition and qualities
Cold Resistance Aluminum Foil Tape is primarily composed of a high-quality aluminum foil backing that offers excellent heat and cold resistance. The foil layer is typically reinforced with a strong adhesive, often acrylic-based, which retains its bonding strength even at low temperatures. This combination of materials makes the tape suitable for extreme cold conditions.
Dimensions and physical properties
Cold Resistance Aluminum Foil Tape is available in various dimensions to suit different applications, typically ranging from narrow rolls for precise sealing to wider options for broader coverage. Its physical properties include a thin and flexible aluminum foil backing that is easy to handle and conforms to irregular surfaces, ensuring a snug fit and optimal insulation.
Temperature range and resistance capabilities
This tape is engineered to withstand a wide range of temperatures, making it ideal for cold environments. It typically performs reliably in temperatures as low as -40°F (-40°C) and can endure high heat as well, withstanding temperatures up to 250°F (121°C) in many cases. This broad temperature resistance allows it to excel in diverse applications.
What Are the Key Features of Cold Resistance Aluminium Foil Tape?
Adhesive quality in cold environments
One of the standout features of Cold Resistance Aluminum Foil Tape is its exceptional adhesive quality, even in sub-zero temperatures. The adhesive maintains a strong and lasting bond, ensuring airtight seals and dependable insulation in cold storage, outdoor installations, and HVAC systems.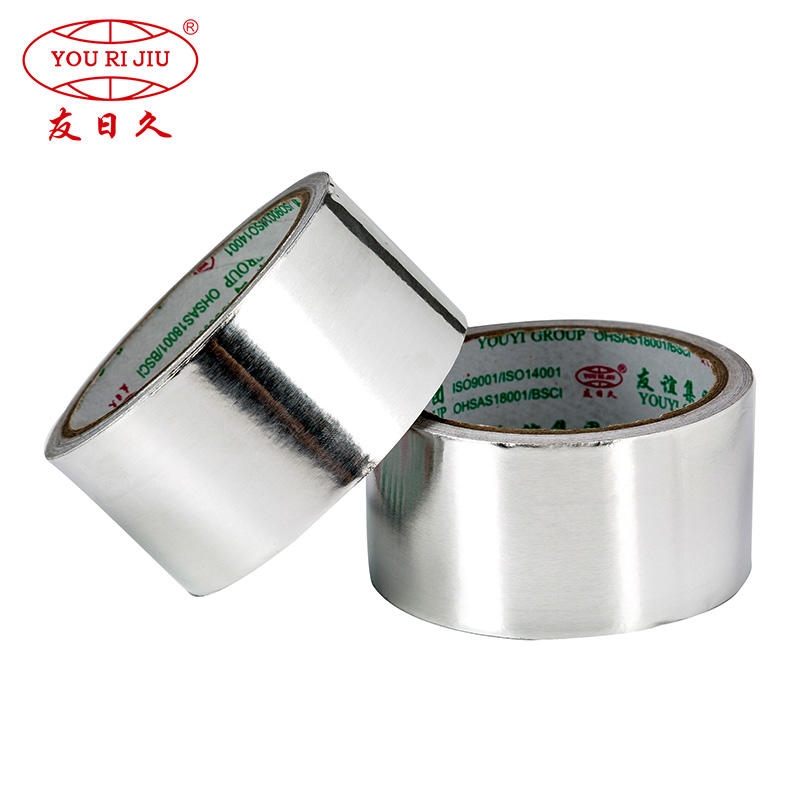 Durability and lifespan
The tape is designed for long-term durability, capable of withstanding harsh weather conditions, moisture, and temperature fluctuations without deteriorating. Its longevity ensures cost-effective solutions for insulation and sealing needs in cold-prone environments.
Flexibility and ease of application
Cold Resistance Aluminum Foil Tape is highly flexible and easy to work with, making it suitable for various applications. It adheres well to both smooth and irregular surfaces, allowing for hassle-free installation and ensuring a secure seal.
Water, chemical, and heat resistance
In addition to cold resistance, this tape often boasts excellent resistance to water and various chemicals, making it suitable for use in wet environments or where exposure to chemicals is a concern. Its ability to withstand high temperatures also enhances its versatility in demanding settings.
Applications
HVAC systems – sealing and repair
Cold Resistance Aluminum Foil Tape is commonly used in heating, ventilation, and air conditioning (HVAC) systems to seal joints and seams in ductwork, ensuring that heated or cooled air remains efficiently distributed. It is also employed for repairs, fixing leaks and tears in ducts and components, and maintaining airtightness to prevent energy waste and maintain indoor air quality.
Refrigeration – insulation and protection
In refrigeration systems, this tape serves as a crucial insulating material, providing a barrier against temperature fluctuations and moisture ingress. It is used to wrap pipes and components, ensuring that refrigeration systems maintain their efficiency while preventing condensation and potential damage to the equipment.
Construction – moisture barrier and thermal insulation
Construction applications often require an effective moisture barrier and thermal insulation. Cold Resistance Aluminum Foil Tape is utilized to seal gaps and seams in construction materials, acting as a moisture-resistant barrier. Additionally, it helps enhance thermal insulation in walls, roofs, and other structural components.
Industrial – securing wiring, preventing condensation
In industrial settings, the tape is employed to secure and protect electrical wiring and cables. Its resistance to moisture and temperature extremes makes it suitable for preventing condensation on pipes and equipment, reducing the risk of corrosion and damage.
Environmental and Safety Considerations
Eco-friendliness of the material
The environmental impact of Cold Resistance Aluminum Foil Tape depends on its specific composition. While aluminum is a recyclable material, the adhesive used in the tape may vary in terms of eco-friendliness. Some adhesive formulations may contain volatile organic compounds (VOCs), which can contribute to air pollution. It's essential to choose tapes with low-VOC or environmentally friendly adhesive options when considering the environmental impact.
Safety in application and handling
Safety precautions should be observed when handling and applying Cold Resistance Aluminum Foil Tape, particularly in industrial and construction settings. Users should wear appropriate personal protective equipment (PPE) to prevent skin contact and eye exposure to the adhesive. Adequate ventilation is also crucial when working with adhesive materials.
Disposal and recycling options
When disposing of Cold Resistance Aluminum Foil Tape, it's important to consider its recyclability. Aluminum foil is recyclable in many regions, and recycling is the preferred method of disposal to minimize environmental impact. However, the adhesive may complicate recycling efforts. Depending on the specific adhesive used, it may be necessary to remove the adhesive from the foil before recycling. Local recycling guidelines should be followed to ensure proper disposal.
CONCLUSION
Premium Cold Resistance Aluminum Foil Tape serves as a reliable and versatile option for insulating and repairing in cold environments. Its outstanding cold-resistant characteristics, durability, and user-friendly application guarantee long-lasting performance in crucial scenarios like HVAC systems, refrigeration, construction, and industrial setups. Beyond its insulation capabilities, this tape also enhances energy efficiency and safeguards equipment, establishing itself as a crucial component in preserving the effectiveness and reliability of essential systems and installations in cold climates.