The High-Temperature Masking Tape Jumbo Roll is a specialized adhesive solution designed to withstand extreme heat, ideal for rigorous industrial processes. Its high-temperature resistance is vital for maintaining integrity and performance during tasks like powder coating and circuit board production, ensuring a crisp, clean finish without adhesive residue. This jumbo-sized roll offers extended use, reducing downtime and maximizing efficiency in fast-paced industrial environments.
What High Temperature Masking Tape Jumbo Roll is
High-Temperature Masking Tape Description
High-temperature masking tape jumbo rolls are specialized adhesive tapes designed to withstand elevated temperatures. Crafted from heat-resistant materials like silicone or polyimide, these tapes maintain their performance in temperatures ranging from 250°F (121°C) to as high as 500°F (260°C) or more, depending on the specific product.
Key Features and Advantages
exceptional Heat Resistance:
High-temperature masking tape jumbo rolls thrive in extreme heat environments, making them ideal for applications like automotive painting, powder coating, and various industrial processes. They maintain their adhesion and structural integrity even under high temperatures.
Strong Adhesive Qualities:
These tapes possess robust adhesive properties, ensuring secure bonding to surfaces without leaving undesirable residues. This feature makes them perfect for masking off areas during painting and coating tasks.
Easy Application and Clean Removal:
High-temperature masking tape is designed for user-friendly application and effortless removal. It facilitates the creation of precise, clean paint lines, reducing the need for touch-ups and saving valuable time.
Versatility on Various Surfaces:
These tapes are versatile and compatible with an array of surfaces, including metals, glass, plastics, and delicate electronics. They provide reliable protection against paint and chemicals without causing damage.
Jumbo Roll Size Options
High-Temperature Masking Tape Jumbo Roll comes in a range of sizes and dimensions to suit diverse industrial requirements. Common widths span from 1 inch (25mm) to 4 inches (100mm) or more. The length of the jumbo rolls can vary significantly, often offering hundreds of feet of tape for cost-effective, long-term usage. Custom sizes may also be available to fulfill specific needs.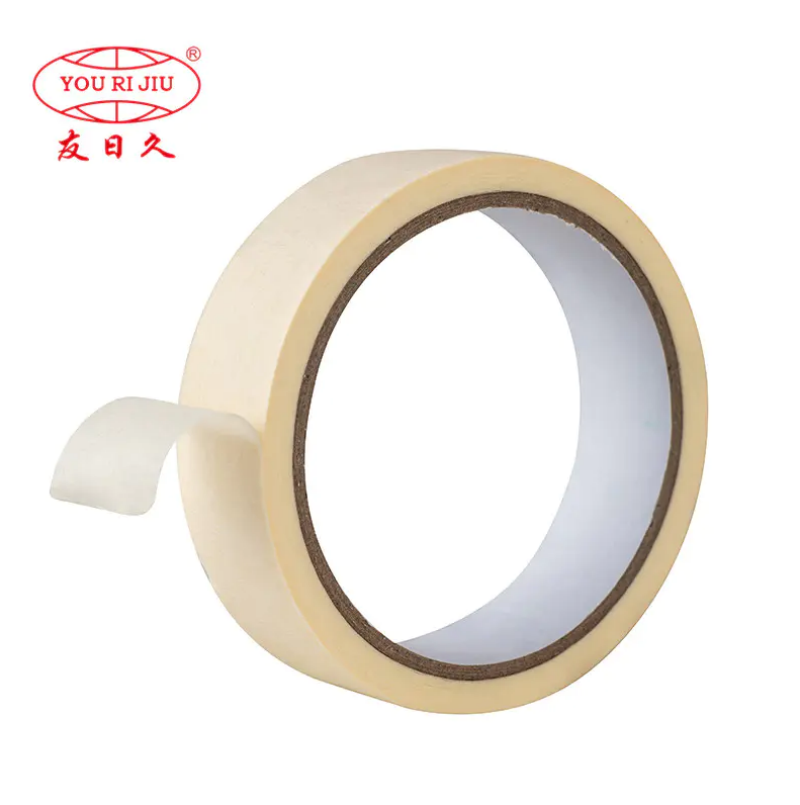 Applications
Industrial Applications
Powder Coating:
High-temperature masking tape jumbo rolls play a vital role in powder coating processes by safeguarding specific areas of metal or other substrates from being coated. This ensures the achievement of precise and pristine finishes.
Circuit Board Manufacturing:
In the realm of electronics manufacturing, these tapes are essential for shielding sensitive components and sections on circuit boards during soldering or conformal coating procedures. Their usage helps avert unintended solder connections, preserving the integrity of electronic elements.
Automotive Painting:
Professionals in the automotive industry depend on high-temperature masking tape for intricate detailing and painting tasks. It facilitates the precise masking of vehicle sections, such as windows or trim, during the painting process, resulting in sharp and well-defined paint lines.
Commercial and Residential Uses
High-temperature masking tape finds applications in both commercial and residential settings, including:
Home Renovation: During home improvement projects like painting or varnishing, this tape ensures clean edges and prevents paint from bleeding onto adjacent surfaces.
Window Insulation: It serves as an effective sealant for gaps around windows and doors, offering insulation against drafts and temperature fluctuations.
Arts and Crafts: Artists and craft enthusiasts utilize this tape for precision painting, creating intricate designs, or safeguarding specific areas of their creative projects.
Custom Application Scenarios
Beyond its standard applications, high-temperature masking tape can be tailored for specific uses, such as:
Aerospace Manufacturing: In aircraft production, it is employed to mask off critical components during painting or coating processes, ensuring compliance with safety and performance standards.
HVAC Systems: Contractors may employ it to seal joints and seams in ductwork, guaranteeing airtight connections and enhanced energy efficiency.
High-Performance Racing: Motorsport teams harness its heat shielding and protective qualities in engine compartments and exhaust systems, where extreme temperatures are prevalent.
Technical Specifications
A. Temperature Resistance and Tolerance
High-Temperature Masking Tape Jumbo Rolls are purposefully designed to endure elevated temperatures. They possess a temperature resistance spectrum that typically spans from 250°F (121°C) to well above 500°F (260°C). This broad thermal tolerance guarantees their steadfast functionality in settings where extreme heat prevails. These tapes exhibit unwavering structural integrity and adhesive prowess even when subjected to such intense temperatures, rendering them exceptionally well-suited for demanding environments like automotive ovens and industrial curing processes.
Material Composition and Adhesive Technology
High-temperature masking tapes primarily consist of heat-resistant materials, primarily silicone or polyimide. Silicone-based tapes offer impressive flexibility and electrical insulation properties, while polyimide tapes excel in dimensional stability and resistance to chemicals and solvents. The adhesive technology employed ensures robust adhesion to diverse surfaces without leaving any undesirable residue behind. This adhesive excellence plays a pivotal role in achieving clean and precise paint lines, making them indispensable in automotive and industrial painting applications.
Durability Across Varied Conditions
High-temperature masking tape jumbo rolls are meticulously engineered for enduring a spectrum of conditions. They demonstrate resilience against moisture, chemicals, and UV radiation, rendering them suitable for deployment in outdoor and harsh industrial settings. Moreover, their durability extends to maintaining adhesion and performance even when exposed to substances like oil, solvents, and other prevalent industrial fluids. This unwavering durability underscores their reliability across a wide gamut of applications, including those subject to challenging conditions.
Comparison with Competing Products
Unique Market Positioning
High-Temperature Masking Tape Jumbo Rolls stand out in the market due to their exceptional temperature resistance, spanning from 250°F to 500°F, surpassing many competitors. Their robust adhesive technology ensures residue-free removal, setting them apart from alternatives that may leave sticky residues. Furthermore, these tapes exhibit compatibility with various surfaces, including delicate electronics, enhancing their versatility compared to other options. Their established reputation in industries such as automotive painting and circuit board manufacturing further underscores their superiority.
Cost-Benefit Evaluation
While High-Temperature Masking Tape Jumbo Rolls may have a slightly higher initial cost than some competitors, their enduring performance and residue-free removal translate into long-term cost savings. Reduced rework and touch-up requirements, along with minimized surface damage during removal, contribute to a lower overall cost of utilization. Moreover, their versatility across a broad spectrum of applications can lead to inventory consolidation, streamlining procurement and potentially reducing expenses related to multiple specialized tapes. Ultimately, the initial investment in these tapes is often offset by the substantial long-term cost benefits and superior performance they deliver.
CONCLUSION
The High-Temperature Masking Tape Jumbo Roll is a dependable selection within the domain of industrial-grade heat-resistant adhesives. Renowned for its outstanding temperature resistance, adaptable adhesive technology, and a history of success in diverse industries, it delivers both endurance and precision in rigorous applications. Whether employed in automotive painting, circuit board manufacturing, or similar high-temperature tasks, this tape consistently outperforms. Its cost-efficiency and enduring performance render it an indispensable asset for professionals in pursuit of reliability under extreme heat conditions.