Flame Retardant Aluminum Foil Fiberglass Butyl Tape, is an advanced adhesive solution designed for high-temperature environments. Combining the toughness of butyl rubber with the heat resistance of aluminum foil and the strength of fiberglass, this tape ensures robust, flame-retardant sealing. Essential in industrial settings, it provides a critical barrier against fire hazards, enhancing safety protocols and equipment longevity.
Composition and Characteristics
Butyl Rubber Explanation
Flame Retardant Aluminium Foil Fiberglass Butyl Tape is a versatile material used for sealing and insulation, comprising several essential components. It employs butyl rubber, a synthetic compound, as its primary adhesive layer. Butyl rubber is preferred for its outstanding sealing capabilities, adhesion to diverse surfaces, and resistance to moisture and UV radiation. Its inherent flexibility and durability render it an excellent choice for various sealing applications.
Aluminium Foil Properties
The tape features a layer of aluminum foil on one side. Aluminum foil possesses numerous advantageous properties, including high thermal conductivity, heat resistance, and corrosion resistance. These qualities make it suitable for applications requiring heat reflection and insulation. Moreover, the inclusion of aluminum foil enhances the tape's strength and longevity.
Fiberglass's Reinforcing Role
To bolster the tape's mechanical strength and resistance to tearing, it incorporates a layer of fiberglass reinforcement. Fiberglass is renowned for its high tensile strength and durability. It imparts stability and prevents the tape from stretching or deforming under stress, ensuring a dependable and enduring seal.
Flame Retardant Characteristics
This tape is intentionally engineered with flame-retardant properties, making it an ideal choice for applications demanding fire safety precautions. It can endure elevated temperatures without igniting, providing protection in environments where exposure to flames or extreme heat is a concern. This inherent flame retardancy is indispensable in various industrial and safety-related applications.
Applications
Industrial Use Cases
HVAC Systems:
Flame Retardant Aluminum Foil Fiberglass Butyl Tape finds extensive use in the HVAC industry, primarily for sealing ducts, pipes, and joints. Its heat-resistant attributes and flame-retardant nature make it a preferred option for ensuring airtight and fire-resistant installations.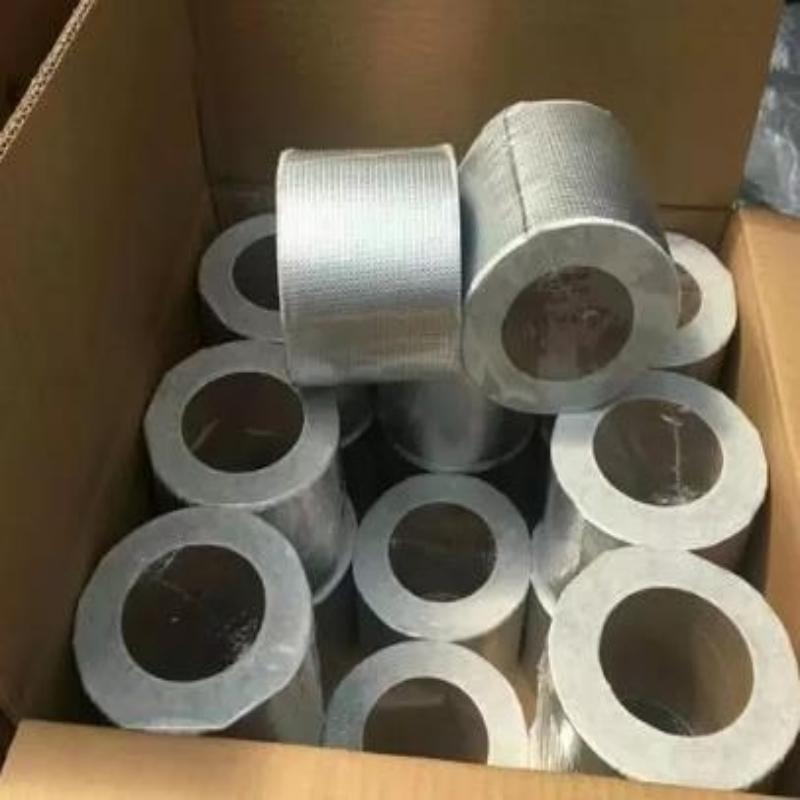 Electrical Insulation:
In electrical applications, the tape serves as a top-notch electrical insulation material. It can be wrapped around and safeguard electrical components and connections, delivering both electrical insulation and fire resistance.
Automotive Industry:
Automotive manufacturers rely on this tape for sealing and insulating various components, such as heat shields, exhaust systems, and engine compartments. Its flame-retardant properties enhance safety in automotive applications.
Safety Applications
Fireproofing in Buildings:
The tape plays a pivotal role in fireproofing structures. It can be applied to seal gaps, joints, and penetrations in construction materials, effectively preventing the spread of fire and smoke. Its flame retardant attributes contribute significantly to building safety.
Protective Wrappings for Infrastructure:
Critical infrastructure elements like pipelines and cables can benefit from protection against fire and environmental factors using this tape. It provides a durable and fire-resistant barrier, ensuring the longevity and safety of infrastructure components.
Other Potential Uses
Beyond the mentioned applications, Flame Retardant Aluminium Foil Fiberglass Butyl Tape exhibits potential in industries such as aerospace, marine, and renewable energy, where sealing, insulation, and fire resistance are paramount requirements. Its adaptability renders it a valuable material across a diverse range of applications.
Advantages Over Traditional Materials
Superior Heat Resistance
Flame Retardant Aluminium Foil Fiberglass Butyl Tape offers a significant advantage over traditional materials due to its superior heat resistance. Unlike conventional sealing and insulation materials, this tape can withstand high temperatures without compromising its effectiveness. This makes it a preferred choice for applications where exposure to extreme heat or thermal insulation is crucial, ensuring safety and durability.
Enhanced Durability and Strength
Compared to traditional alternatives, this tape boasts enhanced durability and strength. The incorporation of butyl rubber and fiberglass reinforcement provides it with exceptional tensile strength and resistance to tearing. As a result, it maintains its integrity under various stress conditions, ensuring a long-lasting and reliable seal.
Longevity and Resistance to Environmental Factors
Flame Retardant Aluminium Foil Fiberglass Butyl Tape excels in terms of longevity and resistance to environmental factors. Its resistance to moisture, UV radiation, and corrosion make it highly durable even in challenging conditions. This longevity not only reduces maintenance requirements but also contributes to cost savings over time.
Ease of Application and Versatility
One of the standout advantages of this tape is its ease of application and versatility. It adheres well to a wide range of surfaces and can be applied with minimal effort. Its adaptability in various industries and applications, including HVAC, construction, and automotive, makes it a versatile choice for sealing and insulation needs.
Environmental and Health Considerations
Ecological Impact of Production and Disposal
When considering environmental impacts, it's essential to evaluate both the production and disposal phases. While the production of Flame Retardant Aluminium Foil Fiberglass Butyl Tape involves synthetic materials like butyl rubber and aluminum foil, its long lifespan and durability mitigate the need for frequent replacements. Additionally, efforts in recycling and proper disposal can help reduce its ecological footprint.
Health Safety Standards Compliance
In terms of health considerations, the tape is designed to comply with health safety standards. It is formulated to resist fire and does not emit toxic fumes when exposed to flames, contributing to occupant safety in buildings and automotive applications. Furthermore, manufacturers adhere to regulations and guidelines to ensure the safety of workers involved in the production process.
Harness the Power of Flame Retardant Aluminum Foil and Fiberglass in Butyl Tape Technology
The integration of Flame Retardant Aluminum Foil Fiberglass Butyl Tape technology signifies a significant advancement in enhancing safety across diverse industries. This innovative combination bolsters fire resistance, durability, and versatility, rendering it a dependable option for a wide range of sealing and insulation purposes. As we continue to prioritize safety and environmental responsibility, this cutting-edge tape stands as evidence of progress in safeguarding and promoting sustainability.