Introducing the Kraft Paper Tape Jumbo Roll: a large-scale adhesive solution crafted from durable, brown kraft paper ideal for heavy-duty packaging needs. In the world of shipping and handling, these jumbo rolls are pivotal, offering both an ample supply for extensive use and the dependability required for securing packages, ensuring they withstand the rigors of transit with an eco-conscious approach.
Basics of Kraft Paper Tape
Composition and Environmental Benefits
Kraft paper tape is a packaging tape crafted from kraft paper, a product derived from wood pulp. What distinguishes it from conventional plastic tapes is its environmentally friendly nature. Kraft paper is biodegradable and recyclable, making it a sustainable packaging choice. Unlike plastic tapes that contribute to plastic pollution, kraft paper tape naturally decomposes, minimizing its ecological footprint.
Diverse Grades and Strengths
Kraft paper tape offers a variety of grades and strengths to meet diverse packaging needs. Its thickness and adhesive properties can be tailored, ensuring it securely seals packages of varying sizes and weights. This adaptability makes it suitable for a wide array of applications, from sealing lightweight parcels to fortifying heavy-duty shipping boxes.
Comparative Advantages Over Other Tape Types
In comparison to alternative tapes, kraft paper tape boasts distinctive advantages. Unlike duct tape or plastic packaging tape, it leaves no sticky residue on surfaces, delivering a clean and professional appearance. Furthermore, it adheres effectively to corrugated cardboard, minimizing the risk of packages unraveling during transit. Its tear-resistant qualities enhance reliability, making it an excellent choice for package security.
The Benefits of Jumbo Rolls
Economical Efficiency
Selecting Kraft Paper Tape Jumbo Roll proves cost-effective for businesses with substantial packaging demands. Jumbo rolls typically contain more tape per roll compared to standard-sized rolls. This translates to fewer roll changes, reduced downtime, and ultimately, cost savings in packaging operations.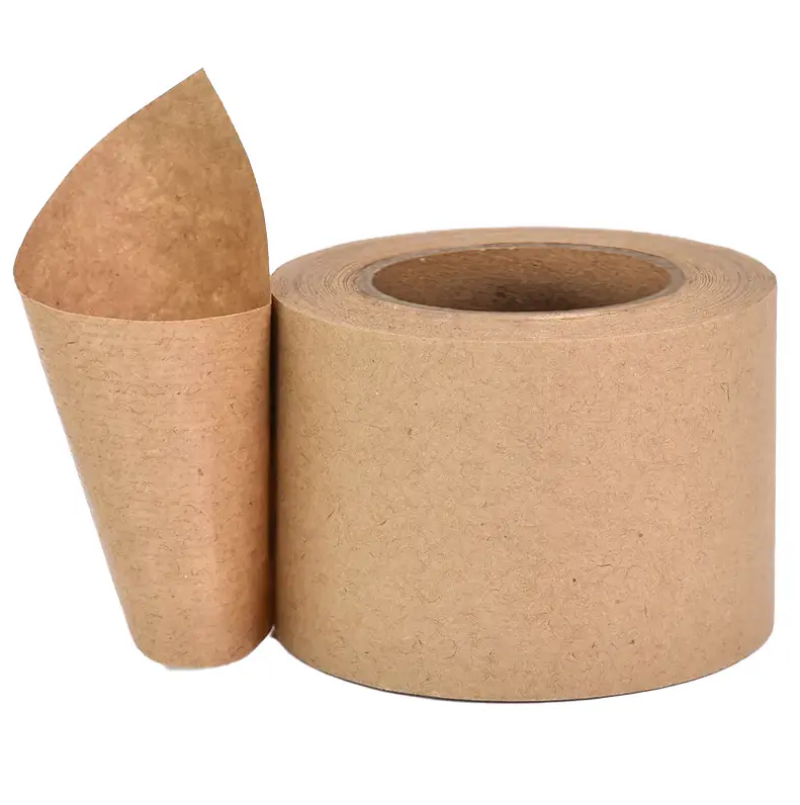 Streamlined Packaging Operations
Jumbo rolls of kraft paper tape streamline packaging operations, enhancing efficiency and convenience. Longer rolls reduce the need for employees to frequently replace empty rolls, leading to increased productivity. The straightforward dispensing from a jumbo roll simplifies the packaging process, minimizing errors and ensuring a seamless workflow.
Reduced Waste and Environmental Impact
Embracing jumbo rolls of kraft paper tape aligns with sustainability goals. Reducing the frequency of roll changes, curtails packaging waste generation. Additionally, the tape's eco-friendly nature, combined with its recyclability, further lessens its environmental impact. Businesses can proudly adopt this eco-conscious choice and contribute to a greener future.
Applications of Kraft Paper Tape Jumbo Rolls
Industrial and Commercial Packaging
Kraft paper tape jumbo rolls find extensive use in industrial and commercial packaging. Their robust adhesive properties and strength make them ideal for sealing heavy-duty boxes and securing goods for transport. Whether you're shipping machinery, automotive parts, or large quantities of inventory, kraft paper tape ensures your packages remain securely sealed throughout their journey.
Retail Packaging Solutions
In the retail sector, kraft paper tape jumbo rolls are employed for creating attractive and eco-friendly packaging solutions. Retailers can customize the tape with their branding, adding a personalized touch to packages. It's an eco-conscious choice that resonates with environmentally-conscious customers, enhancing a brand's image while contributing to sustainability efforts.
Custom Printing and Branding Opportunities
One of the notable advantages of kraft paper tape jumbo rolls is the opportunity for custom printing. Businesses can add their logos, messages, or graphics to the tape, turning it into a branding tool. This not only reinforces brand identity but also provides a unique and memorable unboxing experience for customers.
How to Use Kraft Paper Tape Effectively
Surface Preparation
To ensure effective adhesion, it's essential to prepare the packaging surfaces properly. Ensure they are clean, dry, and free from dust or debris. Smooth surfaces maximize tape contact and enhance its sealing performance.
Best Practices for Application
When applying kraft paper tape, use consistent and firm pressure to ensure it adheres securely. Start by anchoring the tape at one end of the package, then pull it tightly across the seam while pressing it down. Overlapping the tape slightly on the edges provides additional strength. To prevent wrinkles or bubbles, keep the tape taut as you apply it.
Tips for Storage and Handling
Proper storage and handling of kraft paper tape are crucial to maintain its integrity. Store rolls in a cool, dry place away from direct sunlight, extreme temperatures, or humidity. Avoid storing them in a way that could cause the tape to crease or kink. When handling, be gentle to prevent any damage to the tape, as this can affect its adhesive properties.
Seal Success Sustainably: Choose Kraft Paper Tape Jumbo Rolls Today!
The Kraft Paper Tape Jumbo Roll stands as a versatile and environmentally conscious choice. Its exceptional adhesive qualities make it the preferred option for a wide range of applications, spanning from heavy-duty industrial packaging to stylish and sustainable retail packaging solutions.
With its sustainable composition and the opportunity for custom branding, kraft paper tape jumbo rolls empower businesses to positively impact both their financial success and the environment. They provide a green alternative to traditional plastic tapes while allowing companies to showcase their unique identity through personalized printing.
To harness the full potential of this exceptional tape, it is imperative to employ effective application techniques and adhere to proper storage practices. By doing so, businesses can guarantee that their packages remain securely sealed, and their branding efforts make a memorable mark on customers.
In the ever-evolving realm of packaging, the jumbo roll of kraft paper tape is a steadfast companion, offering boundless versatility and unwavering adhesion to cater to the diverse needs of contemporary businesses, all while contributing to a more sustainable and eco-conscious future.