Crepe paper tape, known for its gentle adhesion and flexibility, is a staple in crafting and light-duty home projects. The big roll offers an abundant supply for continuous creativity or extensive tasks, ensuring users benefit from its cost-effectiveness and convenience, without frequent replacements.
The Advantages of a Big Roll
Cost-Effectiveness of Purchasing Larger Rolls
Investing in a big roll of tape often proves cost-effective, as the price per unit length decreases with larger quantities. This can significantly reduce your crafting or home improvement expenses.
The Convenience of Having a Sufficient Supply for Larger Projects
Large rolls of tape ensure you have an ample supply on hand for substantial projects. You won't have to worry about running out mid-project or constantly restocking, allowing for uninterrupted work.
Storage Tips to Maintain Adhesive Quality Over Time
To preserve the adhesive quality of a big roll, store it in a cool, dry place, away from direct sunlight and extreme temperatures. Ensure the roll remains tightly sealed to prevent drying out or losing its stickiness.
Crafting with Crepe Paper Tape
Arts and Crafts Project Ideas
Crepe paper tape is a versatile and colorful material that can elevate your arts and crafts projects to a whole new level. Here are some creative ideas to get you started:
Flower Bouquets: Craft lifelike and vibrant paper flowers using crepe paper tape. These faux blooms can be used as everlasting decorations or as gifts.
Gift Wrapping: Add a unique touch to your presents by using crepe paper tape to create intricate designs and patterns on gift boxes.
Party Decorations: Design eye-catching banners, streamers, and party favors for birthdays, weddings, and other special occasions.
Greeting Cards: Personalize your cards with colorful crepe paper tape accents, making your messages stand out.
Art Collages: Incorporate strips of crepe paper tape into mixed media art, adding texture and dimension to your creations.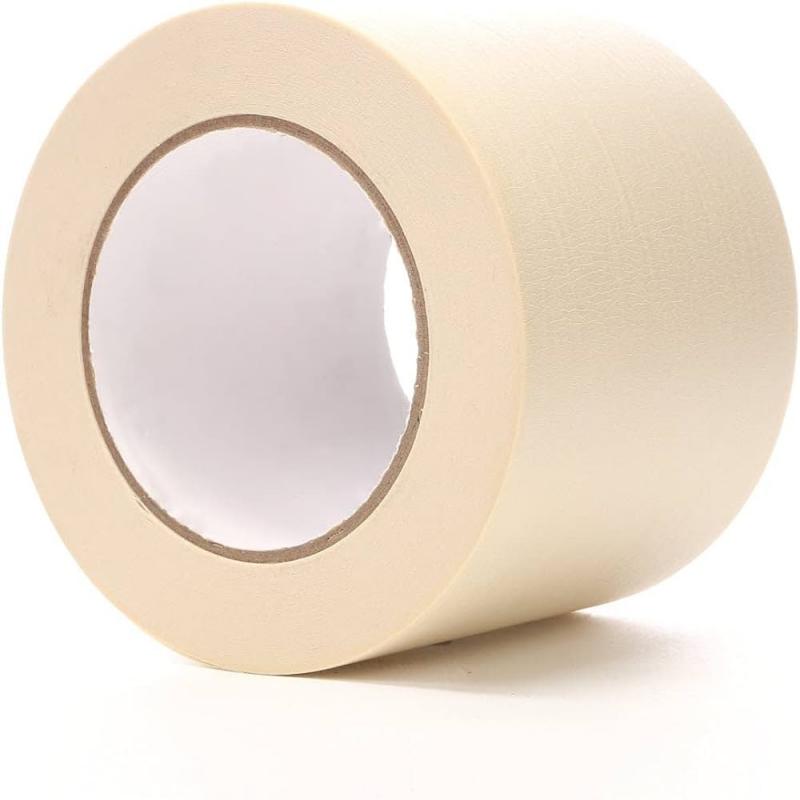 Tips for Working with Crepe Paper Tape in Crafting
To make the most of crepe paper tape in your crafting endeavors, remember these tips:
Cutting Techniques: Use sharp scissors or crafting knives for precise cuts, as crepe paper tape can tear easily.
Adhesive Strength: Crepe paper tape has varying levels of adhesive strength. Choose the appropriate type based on your project's needs.
Layering and Wrapping: Experiment with layering and wrapping techniques to create interesting textures and effects.
Color Combinations: Combine different colors of crepe paper tape to achieve stunning visual contrasts.
Practice Patience: Working with crepe paper tape may require some practice, so be patient and allow yourself to learn and improve.
Examples of Creative Uses in DIY Projects
Explore these creative DIY projects using crepe paper tape:
Pinwheel Decor: Craft vibrant pinwheels with crepe paper tape, perfect for adding a playful touch to parties or outdoor spaces.
Photo Backdrops: Create eye-catching photo backdrops by arranging strips of crepe paper tape in various patterns and colors.
Costume Accessories: Fashion unique costume accessories such as masks, capes, and headbands using crepe paper tape.
Seasonal Decor: Celebrate holidays with custom decorations like Easter egg garlands or Halloween-themed wreaths.
Wall Art: Design abstract or geometric wall art by arranging crepe paper tape in intricate patterns on canvas.
How to Select the Right Type of Crepe Paper Tape for Different Crafts
When choosing crepe paper tape for your projects, consider the following factors:
Adhesive Type: Opt for low-tack adhesive for delicate projects and high-tack for more permanent applications.
Color and Texture: Select crepe paper tape with the desired color palette and texture to match your creative vision.
Width and Length: Different projects require various tape widths and lengths, so choose accordingly.
Water Resistance: If your project might encounter moisture, choose water-resistant crepe paper tape for added durability.
Crepe Paper Tape in Home Projects
General Home Repair and Improvement Uses
Crepe paper tape can serve as a handy tool for quick fixes and home improvements. Use it for:
Temporary Patching: Seal minor cracks or holes in walls, ceilings, or furniture temporarily.
Labeling and Organizing: Easily label boxes, containers, or shelves for better organization.
Cord Management: Keep cords tidy and organized by securing them with crepe paper tape.
Furniture Makeovers: Revamp furniture by adding colorful accents or creating faux finishes.
Quick Fixes: Repair torn pages in books, mend torn paper items, or patch up torn upholstery.
Unique Ways to Use Crepe Paper Tape for Organization and Decoration
Explore innovative ways to use crepe paper tape for both organization and decoration:
Color-Coded Storage: Use different colored crepe paper tapes to color-code storage boxes and containers for easy identification.
Wall Murals: Create temporary wall murals or patterns using crepe paper tape to transform any room.
Furniture Accents: Add decorative borders and accents to furniture pieces like shelves, cabinets, or tables.
Event Decor: Enhance the ambiance of parties or events by decorating walls, tables, and chairs with crepe paper tape.
Seasonal Decor: Change up your home decor seasonally by crafting removable crepe paper tape decorations.
Safety and Removal Tips – Avoiding Residue and Damage
To ensure safe and residue-free removal of crepe paper tape:
Test First: Always test a small, inconspicuous area before applying crepe paper tape to surfaces to check for compatibility.
Gentle Removal: Peel off crepe paper tape slowly and gently to minimize the risk of residue or damage.
Heat Application: If tape is stuck firmly, use a hairdryer on low heat to soften the adhesive for easier removal.
Surface Cleaning: Clean any residue with appropriate cleaning products or methods for the specific surface.
Avoid Prolonged Use: Crepe paper tape is best for temporary applications, so avoid leaving it on surfaces for extended periods.
Comparison with Other Types of Tape for Home Projects
While crepe paper tape has its advantages, consider these comparisons with other tapes:
Masking Tape: Crepe paper tape is similar to masking tape but may have more decorative options. Use masking tape for paint projects.
Duct Tape: Duct tape is stronger and more durable, suitable for heavy-duty repairs but less versatile in decoration.
Washi Tape: Washi tape is thinner and less adhesive than crepe paper tape, making it better for lightweight projects and crafts.
Painter's Tape: Painter's tape is designed for clean paint lines and is less decorative but ideal for masking off areas during painting.
Unlock Your Crafting and Home Improvement Potential with a Big Roll of Crepe Paper Tape!
A big roll of crepe paper tape is the ultimate essential for both crafting enthusiasts and home improvement aficionados. Its cost-effectiveness, convenience for larger projects, proper storage techniques, and eco-friendly attributes make it a versatile and invaluable tool. Whether you're adding creative flair to DIY crafts or tackling home repairs, the big roll of crepe paper tape is your trusted companion, offering both efficiency and affordability in one indispensable package.